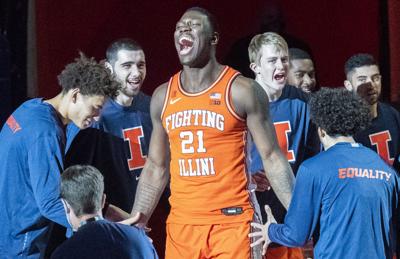 Before the 68-team bracket is unveiled on March 14, college basketball writer Scott Richey will weigh in on his favorite sport. Today's topic? Four reasons why Illinois could be a No. 1 seed (even though a portion of the fan base thinks he's a hater).
Ayo Dosunmu
Having a legitimate national player of the year candidate, which Dosunmu is to the consternation of Iowa fans, is as good a place to start as any when it comes to Illinois' shot to claim a No. 1 seed. Dosunmu can both quietly get a triple-double (or two) and loudly close out game after game with a bevy of clutch shots.
Kofi Cockburn
Cockburn has elevated his game this season just as much as Dosunmu has. The 7-foot, 285-pound sophomore center has seen his shooting percentage rise by nearly 15 percentage points, and he is one of 22 players nationally averaging a double-double. The two-man game between Dosunmu and Cockburn in pick-and-roll situations is almost impossible for opponents to stop.
Advanced metrics
Illinois can now pair its top-10 offense in terms of adjusted efficiency with a top-10 defense. Thrashing Minnesota at home Saturday while holding the Gophers to just 63 points on 40.7 percent shooting certainly helped. Those metrics will aid in Illinois' attempt to claim a No. 1 seed, and the advantage it holds on Ohio State in that regard is noteworthy.
Signature wins
The Illini are 7-5 in Quadrant I games, which is one of the more important factors in determining NCAA tournament seeding. Illinois has a chance at notching three more Quad I wins with road games at Wisconsin, Michigan and Ohio State to finish the season. That the Wolverines and Buckeyes currently lead the Illini in the race for a No. 1 seed just makes those games even more important.
Scott Richey is a reporter covering college basketball at The News-Gazette. His email is srichey@news-gazette.com, and you can follow him on Twitter (@srrichey).