Countdown to Selection Sunday: 20 days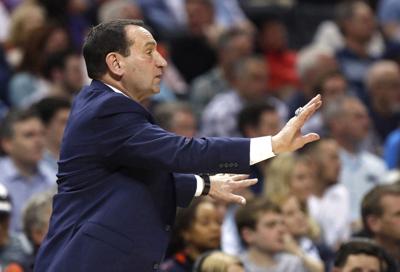 Before the 68-team bracket is unveiled on March 14, college basketball writer Scott Richey will weigh in on his favorite sport. Today's topic? A look at the four active coaches with the most NCAA tournament wins.
Mike Krzyzewski, Duke
There's certainly no guarantee Krzyzewski, who has won five national championships at Duke (second only behind John Wooden's 10 at UCLA), will even coach in this year's tournament and add to his record 94 tourney wins. The Blue Devils aren't even a bubble team. At least not yet. They just beat No. 7 Virginia, and Jalen Johnson opting out might have been addition by subtraction.
Roy Williams, North Carolina
Williams' 77 NCAA tournament wins — and three national titles — are split between his time at Kansas and North Carolina. This year's Tar Heels are at least better than last year's disaster of a team, but it hasn't been smooth sailing. They have won nine of their last 12, however, after a 5-4 start with no real "star" but a balanced, albeit big man heavy, offense.
Jim Boeheim, Syracuse
It's a typical year for the Orange, who are riding the bubble wave yet again with former Illini Alan Griffin tied with former Illini target Quincy Guerrier as the team's leading scorer. Right now, ESPN's Joe Lunardi has Syracuse among the "Next Four Out" in his bracketology projections. That would, of course, hinder Boeheim from tacking on more wins to his current 57 tournament wins.
Tom Izzo, Michigan State
Not a great year for the college basketball coaching legends. Izzo, who has 52 NCAA tournament wins, in the same position as Krzyzewski and Boeheim — on the outside looking in at this year's tourney. Unlike Duke and Syracuse, Michigan State's odds of reversing course and earning a bid are rather slim with an 11-9 record and games remaining against Illinois, Ohio State and Michigan (twice).
Scott Richey is a reporter covering college basketball at The News-Gazette. His email is srichey@news-gazette.com, and you can follow him on Twitter (@srrichey).