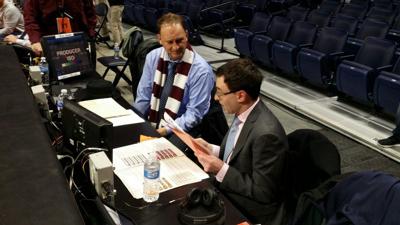 CHAMPAIGN — He isn't moving quite as fast as in his playing days.
Recent hip surgery has temporarily slowed your favorite ESPN basketball announcer.
But Dan Dakich's mouth is working just fine. Thank goodness.
Ask him a question, any question, and he's got an opinion. Sometimes, his comments bring a howl from the offended fan base. Like last year's, "This won't end well for Illinois" before it ended well against Michigan State. Dakich zipped into State Farm Center on Monday night to work the Illinois-Miami game with play-by-play voice Jason Benetti on ESPN2.
What does he think of the Big Ten, the conference that has four undefeated teams going into tonight?
"I don't think people gave a whole lot of thought about Michigan. They weren't in the Top 25," Dakich said. "I think people thought about Maryland, but sometimes Maryland's been up and down. I just got done doing three games and man, they're good.
"They were good Sunday (against Marquette). They were crazy good."
The Big Ten do-good list continues with Ohio State, where Dakch's son, Andrew, is on the staff.
"Kaleb Wesson has lost 30 pounds and is playing at an All-American level," Dakich said. "When you do that, everybody else elevates. They've got to keep going."
The Big Ten has a chance to make a national statement this week. Thanks in part because of its annual Challenge against the ACC.
"By the end of this week, if things go right," Dakich said, "you could have Michigan No. 1, Maryland No. 2 and Ohio State in the Top 5."
Dakich wants to see how Iowa plays. And the Ilini, who trailed by as much as 27 points in the first half Monday night before staging a furious second-half rally only for the Hurricanes to leave town with an 81-79 win.
"Illinois is kind of an X-factor team," Dakich said. "I think they can be as good as anybody.
"Indiana hasn't played anybody yet. I don't think anybody knows Indiana. Minnesota has been kind of Minnesota. Wisconsin hasn't looked very good. We'll see. The top four or five are as good as anybody."
And he hasn't even mentioned Michigan State, picked by some as a national title contender before the season.
Dakich wasn't a believer.
"Not when (Joshua) Langford got hurt," he said. "Nobody can make a shot. They're going to win games and they'll be right down the stretch, but I never bought that they were the No. 1 team in the country and were going to be dominant. They lost some really good players."
Initial look
Monday's game was the first time Dakick had seen the Illini in person this season. But like all good announcers, he does his prep work.
As a former player and coach, he actually knows what he is looking at.
"I like them," Dakich said. "They obviously got thumped (at Arizona), but I thought their win at Grand Canyon was really good."
He re-watched the game again Monday afternoon.
"You go in there and that place is nuts," he said.
The Illini have balance. And versatility.
"They can score from a number of spots," Dakich said. "In college basketball this year, I don't think there are a lot of teams that can score from a number of spots."
But the Illini need to figure out their roles.
"Giorgi (Bezhanishvili) playing with Kofi (Cockburn) and that kind of stuff," Dakich said. "Neither one of them, particularly Giorgi, he doesn't need the ball. He just goes and rebounds and runs and make plays.
"The pieces fit. I think they are very good."
Illinois is trying to return to the NCAA tournament for the first time since 2013. That's a long, bad skid for the school that was a tournament regular the previous three decades.
"You've got to win," Dakich said. "Let's be honest, you have to. Everybody you're bringing into the program on a scholarship has to be good enough to play in the NCAA tournament. That's how you're looking at it. Ayo (Dosunmu) staying was big. Obviously bringing in Kofi. Hell, he can play for anybody. (Trent) Frazier, I don't think has gotten off to a great start yet. But I think he's really been good. As the season goes on, he'll get more comfortable playing with a couple bigs."
Illinois and Dakich's alma mater, Indiana, are both in the third year with their head coaches.
Time for Archie Miller and Brad Underwood to win.
"You've got fan bases that expect a lot of success," Dakich said. "But truthfully, nobody expects more success than what Brad does and his staff. But you've got to do it. It's just the way of the world."
Soft spot
Remember, Dakich watches a lot of basketball. So far this season, there isn't a lot to brag about.
"I honestly don't think I've seen one guy that I would draft and expect to help my franchise immediately," Dakich said. "I've seen some good players. I haven't seen one guy where I said, 'Oh my, if the Bulls get him, they're really going to take off.'"
Hopefully, Dakich will be back in C-U later in the season. To give me his current thoughts on the Illini, Big Ten, college basketball and whatever else is on his mind.
Can't wait.
Bob Asmussen can be reached at 217-351-5233 or by email at asmussen@news-gazette.com.