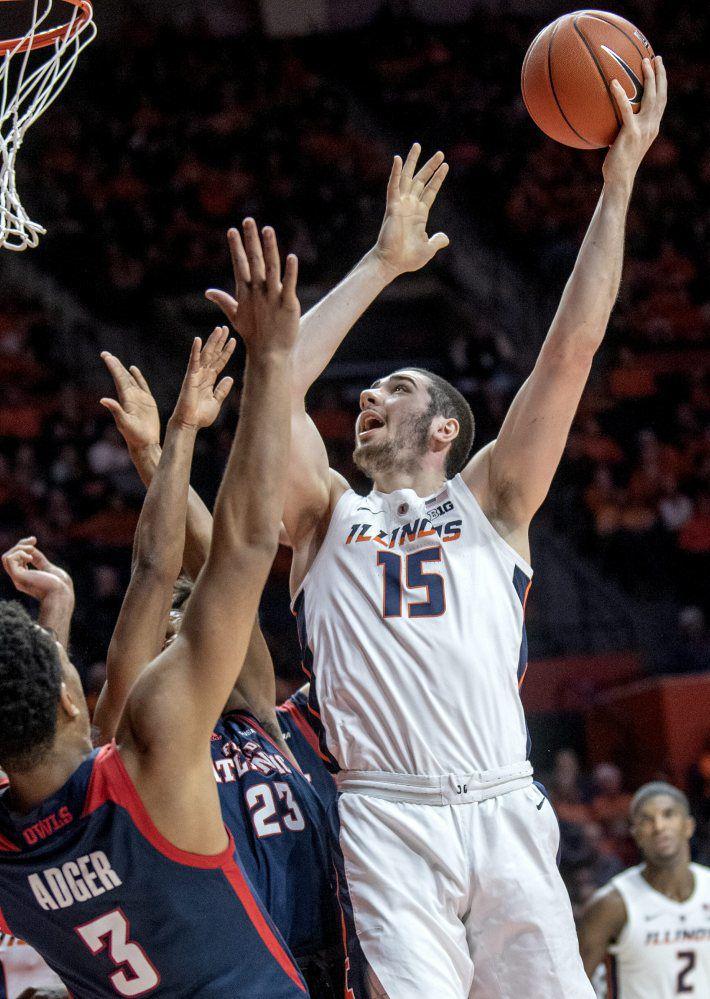 CHAMPAIGN — Illinois' four-game Italy tour could have been the summer secret of Illini basketball. No live streams were scheduled. Full game video wasn't even a guarantee. What happened in Italy could have, you know, mostly stayed in Italy.
But thanks to the Illinois managers — particularly some ingenuity in setup for the second game — every minute of basketball played in Italy was made available not only for the coaching staff and fan base, but for the homebound beat writers, too.
Binging those four games was … an undertaking. The lack of TV timeouts certainly helped, but it was still 5 hours, 9 minutes and 43 seconds worth of basketball to watch. Illinois coach Brad Underwood apparently did it while fighting jet lag upon the team's return earlier this week. So did yours truly.
That none of the four game videos had any sound made it a bit more challenging. Perfect situation if you're looking to add your own color commentary, but even the bounce of the basketball or squeak of sneakers would have added some ambiance. Maybe even angry epithets from incensed Italians considering the "home" team essentially got run off the court in the first three games.
So what did more than five hours of Illinois basketball in Italy reveal? Some things transcend seven time zones. Like how deceptively quick Ayo Dosunmu is attacking the basket. Or how much Giorgi Bezhanishvili flexes on the bench celebrating a big play. But so did ill-advised lob passes that rarely served their intended purpose and — at least in the finale loss — too many easy layups and dunks for the Netherlands National B Team.
Watching five-plus hours of Illinois basketball in one sitting is something. Try to follow along the stream of consciousness of one beat writer as he does just that:
Italy's introduction to Illinois basketball was twofold. The Illini certainly set the standard for the tempo they wanted to play early against CUS Insubria. They also were a little loose with the ball in the process, with some early turnovers that didn't come in the way Underwood expected (adjusting to 24-second shot clock) and were instead a product of trying to do too much.
Halfway through the first quarter CUS Insubria probably realized it was in trouble. That's when Dosunmu split the entirety of their defense, drove the middle of the lane in a hurry and finished with an emphatic dunk.
Dosunmu playing above the rim is as good a sign as any that the sophomore guard has taken another step in his game. He's physically stronger, and that's given a boost to his athleticism, too. Illinois needs improvement across the board after last year's 12-21 finish, but Dosunmu at another level — perhaps true first-round-draft-pick level — could effect wins and losses as much as anything.
As much as Illinois fans should be heartened by Dosunmu's performance in Italy, questions remain about the frontcourt. Bezhanishvili in the low post works. Bezhanishvili on the perimeter might?
It has to if Underwood intends to play both the sophomore forward and freshman center Kofi Cockburn together (missed opportunity to test that, of course, in Italy). An offense based on pace and space has a harder time working when there's less of the latter. Bezhanishvili just needs some confidence in his shot. His hesitancy to take the most open three-pointer possible after missing the exact shot earlier in the same possession against CUS Insubria shows he's not quite there yet.
A few quick thoughts from the rest of the trip …
— Zach Griffith diving on the floor for a loose ball with a 67-point lead is peak hustle.
— Alan Griffin and Tevian Jones stood out in the second and third games, respectively. Griffin lit up Gazzada All-Stars for 31 points. Jones dunked all over Livorno All-Stars. Their confidence in their shot and willingness to launch from beyond the arc is good to see. But the sophomores were equally as impressive getting in passing lanes and crashing the offensive boards.
— Late-game 2-3 zone was a new defensive look for the Illini. They probably would have played it more if Cockburn was on the trip.
— The Dutch exposed there's still more work to be done on the defensive end. Snappy passing had Illinois over rotated defensively (open three-pointers) and hard cuts were effective (those easy layups and dunks).
Anyway, those same five-plus hours of Illini basketball are available for your perusal. They can be enjoyed from the comforts of home and not 97-degree Italian bandbox gyms. Of course, you won't have the luxury of terrific Italian wines, even better food and endless sightseeing opportunities.
Trade-offs, you know.