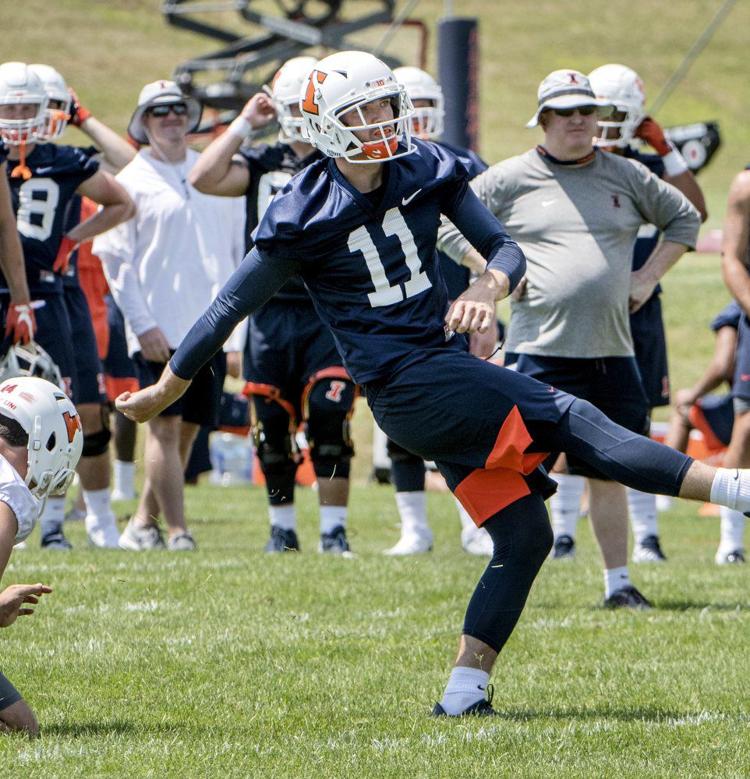 CHAMPAIGN — Caleb Griffin wasn't mincing words this week.
Yes, he wants to become Illinois football's starting placekicker.
Yes, the Danville graduate feels he possesses the skills for the role.
But the redshirt freshman also isn't assuming anything with James McCourt also in the mix.
"It's a competition. I don't have the job," Griffin said at the Illini's media day. "Me and James are going at it, and obviously I hope I come out on top."
Griffin expressed this not long after receiving a significant vote of confidence.
Concluding about five minutes of media day-opening remarks Tuesday, Illinois coach Lovie Smith dropped Griffin's name.
"Special teams-wise, Caleb — Caleb is ready," Smith said. "Danville should be proud of Caleb Griffin coming in, (and) what he'll be able to do as a kicker for us."
"There's a lot of guys on this team doing great stuff, so for him to mention me means a lot to me," Griffin responded. "It just shows what I've been doing with the team and with myself is starting to pay off."
Griffin and McCourt, a redshirt junior, are vying to replace Chase McLaughlin, who frequently served as an offensive bright spot amid Illinois' 2018 struggles.
While Griffin redshirted, McLaughlin nailed all 36 of his point-after attempts and converted 20 of 25 field goals, giving Illinois a solid duo at kicker and punter with Blake Hayes excelling at the latter position.
"I came to game day as a recruit, as a fan, and then to actually come in being on the team, on the sideline in uniform, it's a lot different," Griffin said. "Just talking to Chase, talking to Blake ... trying to figure out how it feels on a game day, what's different. I took a lot from those guys in my redshirt year."
A major shift for Griffin has come in specialization.
That wasn't Griffin's forte at Danville since he participated in football, soccer, basketball and baseball, winning The News-Gazette's All-Area boys' soccer Player of the Year honors in 2016 as a junior in high school.
It's not as if this damaged Griffn's placekicking abilities. He sent 50 PATs and nine field goals through the uprights as a high school senior.
But he recognizes the difference in having one job versus four.
"In high school, kicking wasn't my focus," Griffin said. "I was focused on being good at four sports and just being the best I can be. Now that I'm just kicking, I've got to be on that and make sure I'm able to play on Saturdays."
Griffin believes a "really good spring" put him in contention for that vaunted Saturday slot.
The 6-foot-3 Griffin also has added a bit of size since going the Division I route, up from 183 pounds as a prep senior to 210 pounds entering this preseason camp.
His kicking knowledge has grown, too, courtesy a variety of connections. Those include former Illini McLaughlin and Neil Rackers.
"I talk with other kickers across the country on a daily basis," Griffin said. "Just knowing that they're going through the same stuff as me, we're all working together, pushing each other to be as good as we can."
Prior to media day, Griffin's name was making Twitter rounds after video emerged of him making one-handed pass catches in practice.
That four-sport athleticism still resides within Griffin.
If Griffin has his number called Aug. 31 during the season opener against Akron, though, he knows it'll be for his footwork.
"There's definitely expectations because I've shown that I can do stuff," Griffin said. "Showing that I can do these things is making more people see it, and they're understanding I can and should be the guy if I perform to my best."
Splitting the uprights
If Caleb Griffin lands the kicking job for Illinois this season, he's chasing these former Illini for most field goals in a season:
NAME YEAR FGs
Derek Dimke 2010 24
Chris White 1984 24
Mike Bass 1982 24
Chase McLaughlin 2018 20
Neil Rackers 1999 20
Taylor Zalewski 2015 16
Jason Reda 2007 16
Matt Eller 2008 15
Jason Reda 2006 15
Chris White 1985 15
John Gockman 2003 14
Chris Richardson 1993 14
Doug Higgins 1990 14
Chris Siambekos 1986 14
Chris White 1983 14