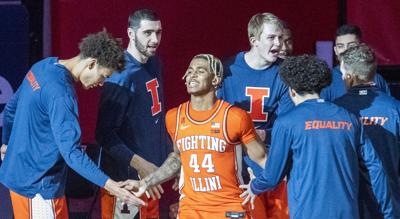 Here's the top 10 available based on their 247Sports Composite ranking out of high school, via college basketball writer Scott Richey:
Walker Kessler
7-1, 245, Forward
North Carolina
The former five-star recruit played sparingly in his first season with the Tar Heels, getting just 8.8 minutes per game in a crowded frontcourt.
Devin Askew
6-3, 198, Guard
Kentucky
Askew reclassified to run the Wildcats' offense in 2020-21 — and he did — but his freshman season was inefficient and not all that productive.
Adam Miller
6-3, 180, Guard
Illinois
Starting all 31 games wasn't enough to keep Miller in Champaign, with the Peoria native moving on after developing into solid two-way guard.
Nimari Burnett
6-4, 195, Guard
Texas Tech
Burnett lasted just 12 games with the Red Raiders, as Georgetown transfer Mac McClung wound up playing a bigger role in Lubbock, Texas, during the 2020-21 season.
Earl Timberlake
6-6, 215, Guard
Miami
The Washington, D.C., native dealt with shoulder and ankle injuries throughout his freshman season and only played seven games with Miami.
Boogie Ellis
6-3, 180, Guard
Memphis
Ellis' role changed in his sophomore season with the Tigers, as he shifted more to backing up fellow guards Damion Baugh and Lester Quinones.
Rocket Watts
6-2, 185, Guard
Michigan State
The "Rocket Watts at point guard" experiment failed for the Spartans, and the Detroit native regressed nearly across the board as a sophomore.
Jabri Abdur-Rahim
6-7, 214, Guard
Virginia
Abdur-Rahim, who was Tony Bennett's second-highest ranked recruit ever, played in eight games and just 37 total minutes as a freshman.
Jaemyn Brakefield
6-8, 216, Forward
Duke
Almost exclusively a backup for the Blue Devils in 2020-21, Brakefield's departure is part of Duke having to overhaul essentially half its roster again.
Micah Peavy
6-7, 215, Guard
Texas Tech
Peavy opting to transfer along with Burnett means Texas Tech not only lost its coach to an in-state Big 12 rival, but also a pair of top-50 guards.
Scott Richey is a reporter covering college basketball at The News-Gazette. His email is srichey@news-gazette.com, and you can follow him on Twitter (@srrichey).