From Champaign to MLB: Journey to success different for three former Parkland standouts
CHAMPAIGN — Kevin Kiermaier's college baseball options out of high school were limited.
Nick Wittgren's college decision came down to two community college choices in the Midwest.
Dan Winkler drew interest from several junior colleges, but a chance to play close to home made sense for the Effingham native.
All three walked around the Parkland College campus in northwest Champaign at the same time, including in 2010 when they were teammates on the Cobras baseball team.
That's not where their baseball journeys ended, however.
From a visit by a MLB scout during a winter practice at the Parkland gymnasium that eventually became a long-term business relationship to a turn of good fortune at the most opportune of times to a unique MLB debut where the driver got lost on the way to the field, Kiermaier, Winkler and Wittgren — now in their late 20s and early 30s — have navigated their way from a community college in Champaign to the bright lights of MLB diamonds on a nightly basis.
And at the end of this month, Kiermaier's Tampa Bay Rays, Winkler's Chicago Cubs and Wittgren's Cleveland Indians will have a chance to play playoff baseball to wrap up the coronavirus pandemic-affected 2020 season.
Just how much his surroundings have changed from where he was at Parkland to now a decade later with the Cubs isn't lost on the 30-year-old Winkler.
"I mean, it's JUCO baseball," Winkler said. "Right now we fly on charter planes and you complain when the 5-star hotel isn't very good. Back then, that was grinding at the lowest level. Junior-college baseball has great talent, but there's not much money in it. Parkland does a great job, but you go to these other places and you see that there's not that much money.
"To get here (to MLB), it takes a lot of skill, but it also takes some luck. The right people to like you. Be in the right situation, the right organization. I didn't foresee this coming."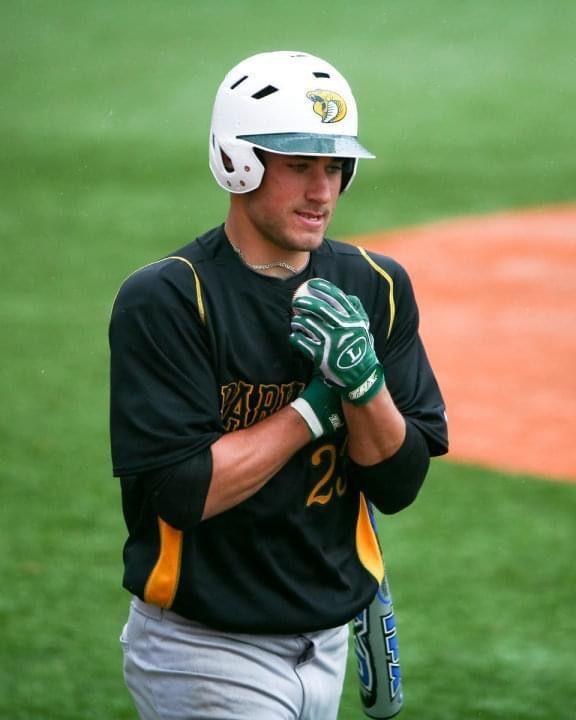 'A late bloomer'
June 14, 2008, was a big day for Kiermaier. On multiple fronts. His Bishop Luers baseball team would be playing for a Class 2A IHSAA state championship, but the Fort Wayne, Ind., native also had his future college coach in attendance.
Kiermaier was the starting pitcher for the game — "the worst outing of my career" — but Luers won the state title 14-8 against Elwood. Kiermaier visited with then-Parkland baseball coach Matt Kennedy after the game, and that's when Kiermaier and Luers teammate Tyler Watts both received offers to play for the Cobras.
The two took a tour of campus about two weeks before the fall semester started and committed to the Cobras.
"I had no other offers really, and (Tyler and I) said, 'You know what, this is 2.5 hours from home. We never thought we'd be at a JUCO, but let's do it. This feels right,'" Kiermaier said. "It was kind of crazy how everything worked out, but it was the best decision I ever made and the best years of my life still to this day possibly."
Even with the success the 30-year-old Kiermaier has enjoyed at the major-league level — a three-time Gold Glove Award winner, and in 2015, the center fielder received the American League's Platinum Glove, given to the best overall defensive player in the league — he doesn't hold a grudge that Parkland was one of the few baseball offers he had out of high school.
"I was a late bloomer," said Kiermaier, a three-sport athlete growing up. "I had no business going Division I right out of high school. I was not good enough at that time. Once I got to Parkland and got older and said, 'OK, how good do I want to get at baseball to eventually get a Division I scholarship?' That was my main priority, my main goal. And then things just kind of kept happening."
What kept happening was Kiermaier caught the eye of MLB scouts — Tom Couston in particular.
Couston — a scout for the Rays at the time when Kiermaier was at Parkland — made his name by discovering Peoria native Jim Thome when Thome was an 18-year-old playing for Illinois Central Community College, well before ending his MLB career with 612 home runs and getting elected to the Baseball Hall of Fame in 2018.
With Kiermaier, it was a run-of-the-mill practice inside a gym on Parkland's campus a few weeks before Christmas in December 2008 when Couston discovered his team's future employee. Actually, Couston was there to watch another player on the Cobras, but Kiermaier was the one that impressed.
"He liked what he saw in me for whatever reason," said Kiermaier, who talked to Couston afterward and received the scout's business card. "I promise you I did not do anything spectacular."
That night, Kiermaier said, was the start of him realizing professional baseball wasn't just a dream, but something he had a realistic shot at achieving.
Kiermaier remembers getting back from practice and running sprints in the parking lot at his apartment complex near the Parkland campus. Kiermaier hit .436 as a freshman with the Cobras, slugging 13 home runs and adding 47 RBI as Parkland went on to win a NJCAA Division II national championship in 2009. He followed up his All-American season that year with another one in 2010.
Then came the 2010 MLB first-year player draft. An excruciating wait for Kiermaier, who saw 940 players selected before him. And no, Kiermaier has not forgotten that number, either.
Kiermaier — who had been told by MLB clubs he would likely get selected somewhere between the eighth and 15th rounds — was still on the board in the 31st round when the Rays took him 941st overall.
Kiermaier received $75,000 to sign on the dotted line.
"Something I will never forget," Kiermaier said. "How bittersweet it was. I went in the 31st round, but looking back on it, I'm so thankful I was the 941st pick. I'll have that instilled in my memory and always have a chip on my shoulder and be very proud of what I accomplished after being expected to not do a whole lot."
In 2013, Kiermaier debuted with the Rays in Game 163 — a wild-card play-in game against the Texas Rangers — in which he was a defensive replacement in the ninth inning of Tampa Bay's 5-2 victory. The Rays kept their season going with a 4-0 wild-card game win against the Indians, during which Kiermaier played two innings, before bowing out to the eventual World Series champion Boston Red Sox in the ALDS.
Kiermaier saw his playing time increase in 2014, playing 108 games that year before winning back-to-back Gold Gloves in 2015 (151 games played) and 2016 (105 games played). In 2019, when he won his third Gold Glove, Kiermaier had arguably his best overall offensive season with 14 home runs and 55 RBI.
It's his prowess as a defender, though, that's a source of pride for Kiermaier.
So much so that after a game against the Braves on July 29 — a 7-4 loss by the Rays in which Kiermaier had two outfield assists, the Tampa Bay outfielder tweeted: "Perfect example of why I don't appreciate bein (sic) compared to other outfielders across the league. Not even close people."
On one of those outfield assists, Kiermaier snagged a ball that ricocheted off the wall near the 375-foot sign in right-center field at Truist Park in Atlanta, wheeled around and fired a throw straight to second baseman Brandon Lowe, resulting in Ronald Acuna Jr. being thrown out at home in the first inning.
"I always try being realistic with everything I say. But I think you can put my name in a conversation with anyone who's ever played centerfield defense. I know I'm not the best hitter on the planet, like a lot of these Ken Griffey, Jim Edmonds types, but I deserve to be in the conversation," said Kiermaier, who according to MLB Statcast had the best jump of any MLB outfielder at 4.2 feet above average in 2019. "I really do. If you don't think so, I just think you need to watch more of our games or what I've done over the years. I think my numbers and my stats back up what I have been saying. I believe I'm being realistic on that.
"It's what I love to do. I love making plays. I love making diving catches, robbing homers and throwing guys out. That means the world to me. That's why I put my body on the line each and every night I'm out there."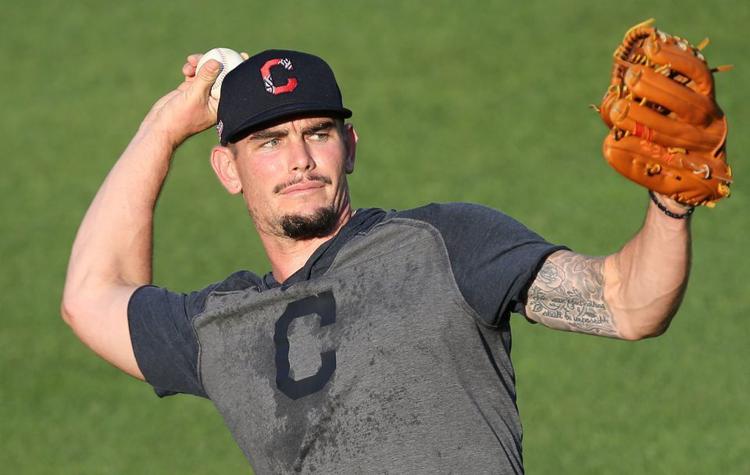 'Story to tell your kids one day'
Like Kiermaier, Wittgren was part of a connection from Indiana to Parkland that Kennedy helped cultivate.
The Cobras coach stayed in touch with Wittgren throughout his prep baseball career at McCutcheon High School in Lafayette, Ind.
Wittgren's high school baseball coach, Jake Burton, steered Wittgren toward Parkland, with Southeastern Community College in West Burlington, Iowa, his only other college offer at the time.
The decision worked well for Wittgren, who posted a 10-0 record and 4.74 ERA in 60 2/3 innings for the 2010 Cobras. That Parkland team finished the season 50-13 and placed fifth at the NJCAA D-II national tournament.
Playing two seasons at Purdue after his freshman campaign with Parkland, Wittgren was a ninth-round pick of the Miami Marlins in 2012 — a bit of a surprise for Wittgren since Marlins scout Kevin Ibach had only talked to him once before the draft.
"I thought I was going to the Mets or someone else because I was in contact with them a lot more," Wittgren admitted. "And then, when I heard the Marlins call my name, I was like, 'Wait, what?'"
Four years later, on April 19, 2016, Wittgren remembers being with the then-New Orleans Zephyrs — the Marlins' Class AAA affiliate — when he was called into the manager's office.
The Marlins were bringing him up to the majors. The only problem? He had about six hours to get from New Orleans to Miami in time for that night's game against the Washington Nationals at Marlins Park.
Wittgren flew to Miami, but his driver got lost on the way to the ballpark. By the time Wittgren got dressed in his uniform for his first major-league game and arrived in the bullpen, it was the fifth inning.
It wasn't long after that the bullpen phone rang. The Marlins' manager, Don Mattingly, wanted Wittgren to get loose. And get ready to appear in the game. Wittgren's MLB debut included facing only one hitter — Anthony Rendon. He walked the 2019 All-Star on six pitches.
"I'm like, 'OK, let's see what I'm made of. Bryce Harper is up," Wittgren remembers of what was going through his mind after the walk to Rendon. "I look up and Mattingly's in my face. He's telling me, 'It's all good kid.' He takes the ball and (David) Aardsma goes in. He gives up a grand slam (to Harper).
"Later on, Donny walks up to me in the dugout, wraps his arm around me and says, 'Hey man, this is going to be one heck of a story to tell your kids one day.'"
Fortunately for Wittgren, he put together some solid seasons with the Marlins, making 118 total appearances from 2016-2018 and registering a 3.60 ERA in the process.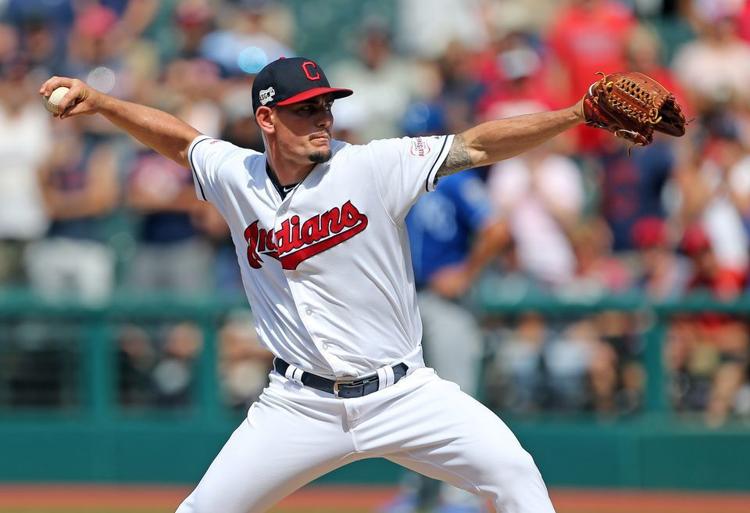 A trade before spring training started in 2019, sending Wittgren to the Indians in exchange for right-handed pitcher Jordan Milbrath, came as a shock to Wittgren. Still, after a brief stint in the minors with Class AAA Columbus that included Wittgren working on a few new pitches — a cutter and a two-seam fastball — the 29-year-old right-hander went back to his bread and butter when he was elevated to the major-league club in April 2019.
"I've got three pitches I throw for strikes and can command well," said Wittgren, who is 7-1 with a 2.80 ERA across 80 1/3 innings during his two seasons with Cleveland. "That's kind of the big thing. I went from having a straight 12-6 breaking ball to more of a slider.
"I feel like these last two years in Cleveland, this year and last year, have been great. The analytic group here showing me what kind of spin and where I need to pitch certain guys with the way my pitch profile is has really helped out. It's stuff that I really dive into and study so it makes me more confident on the mound."
'This cannot happen again'
Winkler views his days at Parkland as the learning experience he needed, especially coming from a small high school, Effingham St. Anthony. Even if it meant watching early on.
He saw Kiermaier's work ethic firsthand and was impressed by Wittgren's "bulldog" mentality on the mound. As Winkler explains it, Wittgren showed an outward confidence, a no-fear mentality that Winkler had yet to develop.
Winkler tells the story of one of Kiermaier's first practices at Parkland playing shortstop and watching Kiermaier "just booting groundballs." But then Kiermaier was the one staying late after practice taking groundballs or flyballs when he was moved to center field.
"To me, seeing him work at that and just grind and have one thing in mind, it was just an eye-opener," Winkler said. "Like, 'Hey I can do this. This is what it takes? I can do this as well.'"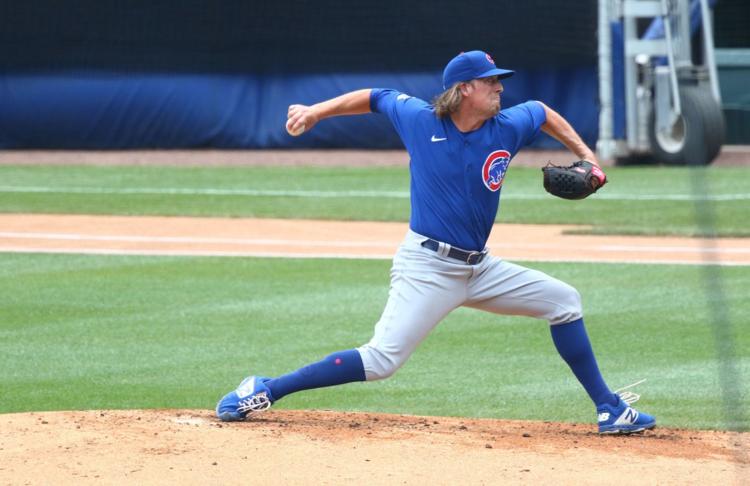 Winkler performed well enough during his sophomore season at Parkland to earn a chance with Central Florida, where as a junior he went 3-4 with a 4.70 ERA in 18 games for the Knights.
A 20th-round pick of the Colorado Rockies in 2011, Winkler's career reached a crossroads a few years later. Tommy John surgery to repair the ulnar collateral ligament of the right elbow in June 2014 while at Class AA Tulsa was followed by a Rule 5 draft selection by the Atlanta Braves on Dec. 11, 2014. Even after elbow surgery, Winkler thought his career was in a good place. Being on the 40-man roster with the Braves allowed him the benefit of rehabbing with the major-league club. He made his MLB debut against the Mets in late September 2015.
Seven months later, Winkler — who had been experiencing elbow pain for several weeks — suffered a gruesome injury, fracturing his right elbow in the Braves' game against the St. Louis Cardinals on April 10, 2016.
"Everyone asked me how painful it was," Winkler said. "I don't remember any of it. I don't know if it was shock or what. People say it was loud. I knew something had happened. I knew it wasn't good. I knew it was going to be another surgery. I just remember thinking, 'Not again, not again. This cannot happen again. I'm finally pitching well. I'm finally where I need to be. I can't believe this is going to happen again.' That's all I was thinking."
The next few years would be an experience of highs and lows for Winkler, who made 16 appearances with the Braves in 2017 before a breakout 2018 season, in which he put up career-highs in strikeouts (69) and innings pitched (60 1/3).
And yet, 2019 had more downs than ups. Winkler was traded to the San Francisco Giants last July and designated for assignment a day later.
"I hadn't been sent down before. I hadn't been told you are not good enough to pitch here," Winkler said. "That was something for me mentally that I had to deal with and overcome. Getting traded to the Giants was probably the best thing. At the time, it didn't seem like it was probably going to be the best thing, but it was."
Winkler said pitching with the Sacramento River Cats — a Class AAA affiliate of the Giants — in the second half of 2019 and winning the league's national championship made "the game fun again."
This past offseason, with Winkler a free agent, he signed a split major league contract worth $750,000 with the Cubs — the first team to show interest in him.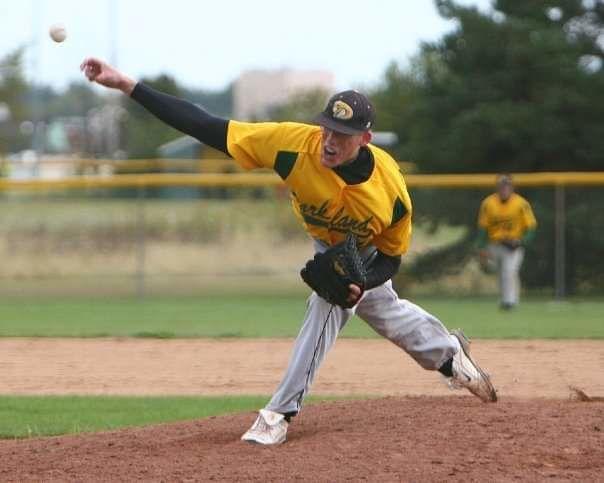 Winkler also visited the Parkland campus last winter, throwing a bullpen session with current Cobras baseball coach Jon Goebel. Winkler pitched on the school's rapsodo device, a pitching physics system that measures spin efficiency and spin axis.
Goebel and Winkler worked on having Winkler's slider and cutter look the same coming out of his hand. The cutter has been Winkler's go-to pitch throughout much of his MLB career, although after his arm injuries, he developed a lower arm slot to not only put more spin on the ball but relieve some of the stress on his elbow.
The results have been good in his first season with the Cubs, with Winkler putting up a 3.24 ERA in 16 2/3 innings.
"Danny just has a never-say-die attitude," said Goebel, who was part of the coaching staff at Parkland when Winkler and Wittgren pitched for the Cobras. "He's a great dude. He's very grounded. He's very faith-based. He works his butt off. He's one of those guys that kind of deserves all of the positive things that come his way."
'Build their brand'
Goebel has witnessed the profile of Parkland and junior-college baseball as a whole grow in the past decade from the time when Kiermaier, Winkler and Wittgren cut their teeth in Champaign to now with Goebel entering his third season in charge of the Cobras.
The St. Louis area product — who played four years of college baseball, first at Forest Park Community College before transferring to Bradley — said the reputation of the JUCO game as an avenue for college athletes to reach the pros has improved.
The presence of social media has made that possible, creating exposure for schools to give out information to prospective high-school recruits about their programs, as well as current JUCO players to be seen by MLB scouts.
"I do think junior college is starting to build their brand from a baseball standpoint," Goebel said. "It's becoming more and more of a 'prestigious' option for a lot of guys, depending on the program. Parkland, specifically, recruiting is the lifeblood and we're always trying to draw in better athletes every year. I think athletes who know about our program now, we might not have attracted them to this school previously."
The path of Kiermaier, Winkler and Wittgren to the majors gave "credibility into our program," Goebel said, but he admitted it's also about not riding on "the coattails of history forever."
That's why seeing more former Parkland players possibly reach the major-league level — especially ones drafted in the past five years, like Brady Schanuel, Cole Taylor, Jordyn Muffley and James Naile — will only enhance the school's reputation as a producer of major-league talent, according to Goebel.
A 'weird' season
With the MLB regular season now in its final weekend, Kiermaier's Rays have already clinched their first AL East title since 2010, doing so this past Thursday.
Playing for contending teams was a big reason that drove Kiermaier, Winkler and Wittgren to want to play this season even amid a pandemic. Not always an easy decision with all three having young children at home.
Kiermaier's son, Karter, will turn 2 years old in November. Kiermaier and his wife, Marisa, also announced earlier this month on Twitter that they have a second child due next March. Wittgren's son, Jackson, is 1 1/2 years old, while Winkler has a 1-year old daughter, Eloise — who had a birthday in September — and a son, Declan, who will be 3 years old next month.
None of the three said they seriously considered opting out on the 2020 season, however, feeling good about the protocols put in place for MLB.
The regular season ends this Sunday with the Cubs playing the crosstown rival White Sox at Guaranteed Rate Field, the Rays hosting the Phillies and the Indians at home against the Pirates.
Then, it's time for the first-ever 16-team playoff field, with eight teams from each league reaching the postseason. The wild-card rounds will have the higher-seeded teams host the three-game series, before MLB moves into a bubble-like atmosphere.
The two NLDS series will take place at Globe Life Field in Arlington, Texas, and at Minute Maid Park in Houston, with NLCS and World Series at Globe Life Park. The two ALDS series will happen at Petco Park in San Diego and Dodger Stadium in Los Angeles, with the ALCS happening at Petco Park.
Anticipating the possibility the Cubs could play in those bubble cities if they advance past the opening round, Winkler was packing up his family's apartment in Chicago on Sept. 18 with his kids and wife, Camille, planning to drive back to their permanent home in Nashville, Tenn. The couple realized the strict quarantine procedures of a bubble wouldn't be the easiest thing for two young kids to handle.
And yet, Winkler doesn't think the bubble will feel much different than what MLB teams have experienced throughout a shortened 60-game regular season played in front of no fans.
"I have kind of gotten used to it," Winkler said. "I think what's going to be really weird is when we do have fans. When you are playing in front of that packed house, it's going to be really like your debut all over again. It's going to be awesome, but also kind of scary."