From the sports editor's desk | Successful formula at Parkland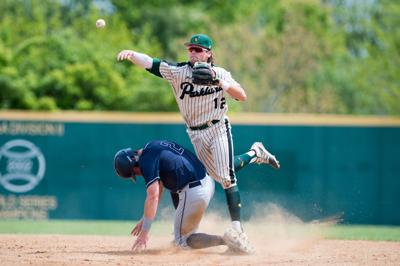 CHAMPAIGN — The list is lengthy. With a variety of schools included.
And with no signs of slowing down.
The Parkland baseball team is a respected one among the NJCAA Division II confines. Yet Division I schools are taking more notice each season about the community college program located in Champaign.
It's just how Cobras coach Jon Goebel envisions it. During the last five seasons, including the COVID-19 affected 2020 season, Parkland has sent more than 45 players on to the D-I level.
"I take a lot of pride in that, and we all do here at Parkland," said Goebel, who just wrapped up his third season in charge of the Cobras this past spring. "At the end of the day, the wins are nice and we want to compete for a national title. But the reality is kids come here to get better and move on. That is the lifeblood of a good JUCO program."
The formula has worked. Just off the 2021 roster, 13 of the Cobras' 48 players will suit up for a D-I program next season. That includes pitchers Matt Parenteau (Mississippi) and Kyle Brown (Missouri) moving on to SEC programs.
A local product, Mahomet-Seymour graduate Austin Biehl, will play at Texas-San Antonio in 2022 after a successful stint as an infielder with the Cobras. Biehl's development — he only hit .219 in 32 at-bats as a freshman in 2019 before hitting .365 with eight home runs and 41 RBI this past season — is a classic case of how a player lightly recruited out of high school can thrive at the right community college and then wind up on a D-I roster.
"Each season with us, he improved," Goebel said. "His sophomore season, he really started to get hot right before COVID shut everything down. Austin used his COVID eligibility relief to come back a third year, and I am sure glad he did. His physical tools had all improved from the time he spent in the weight room, but his approach and two-strike hitting took a huge leap forward. That really is what allowed Austin to excel so much this past spring."
Parkland is having all this success in recruiting players despite only having 15 scholarships to work with.
Per NJCAA rules, a typical community college team can have up to 24 scholarships.
"I would say 90 percent of our competitors have 24 scholarships," Goebel said. "Having 40 percent less scholarship money than your competition is not ideal. I think the success that we have had over the years at Parkland is a testament to the players and coaches alike. I really feel that if we were equipped with 24 scholarships, we could really take the program to another level, but I do not see that happening anytime soon."
Goebel and his staff have to get creative with recruiting. Where some programs may not offer a player until they see them in person, Parkland isn't like that.
"We really are not on the road as much as one might think," Goebel said. "There are so many ways to identify talent using the internet and social media. Granted, when we have some guys identified as potential fits for us, one of my assistants or I will go watch them play and compete, but if we feel a kid is a fit for us and we like his tools, we go get him. We don't have a travel budget, and our coaches and I are almost always coaching or working at our field in the summer, so we rely heavily on the internet and social media."
While some coaches may view recruiting as a necessary evil, Goebel doesn't see it that way. Transparency, he said, is vital in the whole process.
"We cut out all the BS in recruiting," Goebel said. "We explain to players why we are an alternative to the college baseball program norm and how it will benefit them regarding their personal development. Kids want to be themselves. They don't want to be boxed into a system."
Of course, recruiting players who will likely only play two seasons, at most, presents its own set of varying circumstances. And a peculiar story or two as well. "We had a recruit once come to student orientation right before he was scheduled to begin classes at Parkland, and he decided to decommit because he felt I did not talk to him as much as some of the other committed recruits who were also in attendance," Goebel said. "Always thought that was a little odd."
But the odds of landing at Parkland and then continuing their college career at a higher level than what they could out of high school are in the Cobras' favor. It's a trend that likely isn't going away.
"We want to promote a culture at Parkland that makes our athletes confident people," Goebel said. "We believe that if you come here and invest in yourself, the payoff on the other side could potentially be a big one."