Game Day Central | No. 16 Illinois 73, Syracuse 44 (FINAL)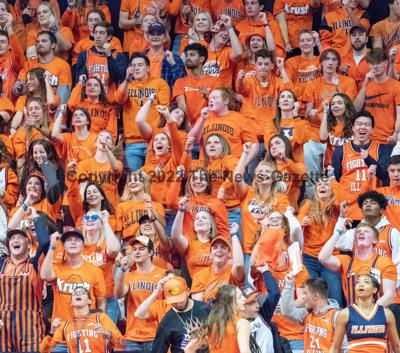 Follow along with beat writer Scott Richey all night from State Farm Center:
***
Here's more of what Illinois coach Brad Underwood had to say ahead of tonight's game against Syracuse:
On pace (and the Orange trying to slow it down)
"I think we learned something from that Virginia game in terms of what that looks like. I thought at times we got the pace we wanted to go. We're not going to not do what we do. We're going to try to continue to play with a little bit of pace. That doesn't mean shoot it quick. It means take great shots and take our opportunities when we get stops and make sure we push that ball."
On Syracuse center Jesse Edwards
"He doesn't shoot anything that's not at the rim. He's a very good offensive rebounder. He reminds me a little of the kid at Virginia (Kadin Shedrick). He goes to the offensive glass. He's got length. He's mobile. He likes to get to that left shoulder and shoot jump hooks. He can catch lobs. Plus he's an effective shot blocker."
On Illinois guard Skyy Clark
"He's making great decisions. He's being aggressive without being selfish or overly assertive. He's kind of found the right mix. Looking for his opportunities when they're there. Not being afraid to drive it in. Not being afraid to pull up and shoot it."
***
Syracuse coach Jim Boeheim has the unique distinction of winning his 1,000th career game ... twice. The NCAA vacated 101 wins for a variety of NCAA violations, so the longtime Orange coach got another crack at 1,000 career wins earlier this season. 
Boeheim's actual record is 1,103 career wins. That would put him at least closer to retired Duke coach Mike Krzyzewski's 1,202 career wins. In reality, it's going to take three more years than it should have if Boeheim were to surpass Coach K's record. Boeheim, of course, is 78 years old, but doesn't seem inclined to stop coaching even though he's run out of sons to have on his team.
"I admire him," Illinois coach Brad Underwood said of Boeheim. "I admire longevity, and longevity at one institution, to me, is really special. It's so hard to do. To find a level of success and be able to do that over the course of time and to have the success. You don't win 1,000-plus games because you're a bad coach. You know what you're doing. You know how to motivate. You know how to teach. I think everybody that's watched his career understands what a good teacher he is and what a good motivator he is."
***
The 2-3 zone Syracuse has run, well, forever under Jim Boeheim makes the Orange fairly unique in the college basketball world. It's not the type of defense Illinois typically faces, and that's held true this season. 
"We have seen some," Illinois coach Brad Underwood said. "We haven't seen a ton. Obviously, it's what Jim does and what Syracuse is known for. We'll have to execute against it. We'll have to make some shots and move the ball and do all the things you have to do against the zone to beat it."
***
It's game day in Champaign. A rather important game, too. Not that Syracuse is a world beater this season. Or because everyone will be at State Farm Center mourning the end of the Big Ten/ACC Challenge. 
But tonight's game is the start of an important four-game stretch for Illinois to wrap up the first month of the season. The Illini were tested in Las Vegas with games against a pair of AP Top 25 opponents. Splitting them was fine. Lessons were learned.
The next four games are just as important. Tonight's game against Syracuse isn't in "must win" territory, but the struggling Orange have made it more of a "would be better if you didn't lose" game.
Then Big Ten play starts Friday at Maryland against a Terps team that's surprised in the first few weeks and is now ranked. A showdown with a top three Texas team follows at Madison Square Garden. Then Penn State at home to round out the early Big Ten games.
This stretch won't make or break the Illinois season. But it's an opportunity to make a statement, potentially several of them, in the first month. Starting with a win tonight against Syracuse would be the right first step.
Scott Richey is a reporter covering college basketball at The News-Gazette. His email is srichey@news-gazette.com, and you can follow him on Twitter (@srrichey).