Gameday Central | Illini upset in Hall of Fame Classic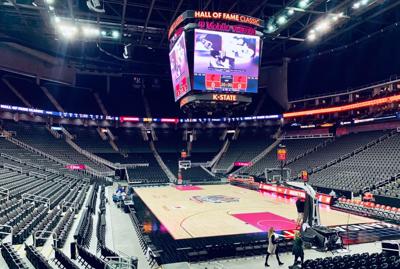 Follow along all evening long with beat writer Scott Richey from T-Mobile Center in Kansas City, Mo., as Illinois plays Cincinnati in the Hall of Fame Classic:  
***
Turns out Illinois won't be a full strength tonight after all.
Per Brad Underwood's radio pregame interview with Brian Barnhart, Luke Goode is out tonight with back spasms. Austin Hutcherson is in uniform tonight. #Illini

— Scott Beatty (@scott_beatty) November 22, 2021
Luke Goode didn't play much against against Marquette — about 57 seconds if I remember the box score correctly — and Austin Hutcherson is dressed and ready to play, but the freshman wing has shown a real capability (just playing hard mostly) early in his career.
***
There must be something in the state of Louisiana when it comes to forcing turnovers. Louisiana leads the country in turnover percentage, turning over its opponents on 34.1 percent of their possessions. LSU is second at 30.8 percent.
That has nothing to do with tonight's game between Illinois and Cincinnati other than I was looking up those rankings. For a reason, of course. The Illini did commit 26 turnovers a week ago at Marquette. 
Cincinnati's defense has a turnover percentage of 20.5 percent. That's in line with the Golden Eagles, who are just slightly better at 21 percent. The style of defense isn't the same, but the Bearcats aren't pushovers on defense.
"We've got to handle their pressure," Illinois coach Brad Underwood said. "They throw a lot of pressure at you. They get in the passing lanes. They throw multiple ball screen coverages at you based on personnel. They've got four centers — all different — and they adjust their ball screen coverages according to who they have in. We've got to be very dialed in. We just can't be 'plain Jane,' so to speak on the offensive end."
***
Here's what Illinois coach Brad Underwood had to say about Cincinnati:
"A team that plays and mirrors us in a lot of ways. You start looking at all the national statistics, and they're a team (first-year coach Wes Miller) has got playing extremely hard. They're guarding, they're rebounding and they match up number wise very close to where we are. We know we're going to have play well. We know we're going to have to play extremely hard.
"The (Jeremiah) Davenport kid is a terrific player. Wes has got tremendous depth playing 10-11 guys. They've got a lot of size. They're one of the leading shot blocking teams in the country with all that size. We're going to have to execute on the offensive end. Nothing is going to come easy. They're very, very aggressive and mix up their ball screen coverages. We'll have to be better than we were in our last game against Marquette."
***
Want tonight's Illinois-Cincinnati matchup broken down by an expert. Former Illinois guard turned college basketball analyst Sean Harrington, as always, has you covered ...
The return of Kofi as @IlliniMBB takes on Cincinnati. Here are a few keys to watch for. pic.twitter.com/jE1uwCQXw6

— Sean Harrington (@smharrington24) November 22, 2021
***
For the first time all season not counting the first exhibition game, Illinois has its entire roster dressed and actually preparing to play. At least that's the way it looks right now. (Austin Hutcherson was "dressed" for the Marquette game and went through a pregame workout, but then was back in street clothes by the time warmups started).
Hutcherson is dressed and went through the regular pre-warmups shootaround after getting fully cleared for practice and off his minutes restriction at the end of last week. Kofi Cockburn, whose absence wasn't injury related, of course, is also dressed and ready to play after being fully immersed back in practice the last week.
Brandin Podziemski keeps up his streak of being the first Illinois player on the court, but Jacob Grandison was right on his heels. The #Illini are wearing their orange alternates (non-throwback) for today's game against Cincinnati.

— Scott Richey (@srrichey) November 22, 2021
The same is true of Andre Curbelo and Trent Frazier. Both played against Arkansas State and Marquette, but were apparently still held out of some practices following their return from concussion protocol and an injured right shoulder, respectively.
"I hope the week helped," Illinois coach Brad Underwood said. "It was as big a piece not just getting Kofi back, but getting Curbelo and Trent back in practice full time as well. It was a week of teaching. We have to clean up some things on the offensive side — demanding execution. We dumped (Cockburn) back in, now. It was full bore. We're not going to hedge our bets any other way on that one. We're going to ride Kofi's back. Getting him back in practice was a big, big piece of what we did this week."
***
It's Feast Week!
That's really all that needs to be said. If you've managed to multitask on this Monday, you surely have spent most of this day watching college basketball. Games have been on all day, including the Maui Invitational (in Las Vegas) and a matchup between No. 1 South Carolina and No. 2 UConn on the women's side in the Battle 4 Atlantis where the Gamecocks overcame a double-digit deficit to top the Huskies.
Feast Week continues tonight in Kansas City, Mo.,. where beat writer Scott Richey (as always, that's me) is spotted up courtside at T-Mobile Center for the Hall of Fame Classic between Illinois and Cincinnati. Tipoff is at 5:30 p.m.
𝐆𝐚𝐦𝐞 𝐃𝐚𝐲!🏀 Hall of Fame Classic🆚 Cincinnati 🕠 5:30 PM CT📺 ESPNEWS#Illini | #EveryDayGuys pic.twitter.com/BODb7PFX5f

— Illinois Basketball (@IlliniMBB) November 22, 2021
The big news — literally — is that Kofi Cockburn is back for the Illini. The preseason All-American center missed the previous three games during the course of his NCAA-mandated, three-game suspension. 
To say Cockburn will be a difference maker for Illinois is selling the 7-foot, 285-pound center short. Most of what the Illini do — particularly on offense, but some on defense, too — is geared around Cockburn. Andre Curbelo, certainly, has to be thrilled the No. 1 roll option in pick-and-roll situations last season nationally will be on the court.
Illinois has a bit to prove today in Kansas City (and definitely tomorrow if the matchup everyone wants actually happens). The Illini don't have that signature win just yet. Maybe not even a good one considering where Jackson State and Arkansas State rank nationally.
No matter who Illinois faces this week in Kansas City, it will be a top 100 game. Now would be a good time — it's never too early to build an NCAA tournament résumé — to pick up a good win or two.