Gameday Central | Illini upset No. 7 Penn State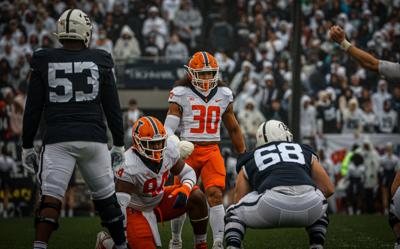 Brandon Peters to Casey Washington. 
That was the winner for Illinois on Saturday afternoon at No. 7 Penn State. A two-point conversion pass. In a ninth overtime. A 20-18 upset in Happy Valley.
Peters was pressed into duty at quarterback after Art Sitkowski went down early in what turned into a two-point conversion war with the Nittany Lions. The starter-turned-back ultimately through. 
That it was a passing play to win it for Illinois, though, was a bit ironic given how the Illini got to overtime in the first place. Namely 67 rushes for 357 yards and their only touchdown with Chase Brown topping 200 yards and Josh McCray rushing for more than 100.
The Illinois win also had some historical value. It was the first ever FBS win in nine overtimes (and first to go past seven). It was also just the third road win for the Illini against a top 10 team in the last 50 years.
***
Two more field goals. Three more points apiece for Illinois and Penn State. Now the game heads to a third overtime where both teams will trade shots at two-point conversions from the 3-yard line from here on out. 
***
Both Penn State and Illinois had to settle for field goals in the first overtime. Jordan Stout and James McCourt came through. 
Not that the Illini almost didn't throw the game away ... literally. A double reverse pass by Casey Washington hung up just enough Penn State's defense made a play on it while Art Sitkowski, the intended receiver, just waited for the pass to come to him. Not ideal.
Also, why Washington and not Isaiah Williams is the passer in that play is kind of a head scratcher. One of those guys actually played quarterback in college. 
***
The upset is still in play. Illinois and No. 7 Penn State are headed to overtime. One more chance (at least) for the Illini defense to come up with another stop or the Illini offense to get in the end zone for only the second time in their last nine quarters of play.
***
Illinois took the lead, twice, on its latest drive. Sort of. A touchdown pass from Daniel Barker and a touchdown run by Chase Brown were nullified by penalties. So the Illini had to settle for a 37-yard field goal from James McCourt to end their 16-play, 70-yard drive that chewed up 7 minutes, 33 seconds of clock.
So it's a tie game in Happy Valley with just less than 12 minutes to play. Will the Illinois defense continue to shut down Penn State? Can the Illinois run game get into the end zone?
We'll see. 
***
Penn State entered today's game averaging just more than 100 yards per game on the ground this season. Through three quarters against Illinois? Chase Brown has 182 rushing yards and Josh McCray has 113.
The Illini have run the ball 47 times compared to just 13 pass attempts. They're sticking with the only thing they do well. Really leaning into it, too, with a regular seven offensive linemen/two tight end look. Plenty of Michael Marchese as a fullback, too.
Just imagine, though, what Illinois might be doing against Penn State if it had an even semi-competent passing game. 
***
Now you can't say Illinois hasn't scored since the third quarter of the Charlotte game the first weekend of October. Chase Brown just capped a 15-play, 75-yard drive that took 8 minutes, 20 seconds with a 1-yard touchdown run.
Notable about said drive? Illinois ran the ball 13 times. Also notable? Chase Brown has rushed 16 times for 117 yards so far.
The Illini are regularly playing with seven offensive linemen and two tight ends offensively. Passing plays are now obsolete.  
***
Illinois entered Saturday's game plus-8 in turnover margin this season, which has been a combination of a defense that's kept up its pursuit of takeaways and an offense that's mostly taken care of the ball.
Today's turnover margin for the Illini? A not ideal minus-2. Art Sitkowski threw a interception in the first quarter (a truly bad throw) and then fumbled in the second quarter (got crushed on a sack because pass protection is still an issue). 
Penn State turned its fumble recovery into three points with a 35-yard field goal by Jordan Stout. A minor victory for the Illini given the Nittany Lions took a couple shots in the end zone on passing plays (Sean Clifford overthrew a wide open receiver on the second).
The game hasn't gotten out of hand, obviously, but Illinois has already gone six straight quarters without scoring and is working on a seventh right now.
***
Penn State didn't attempt a single pass during its first two offensive possessions. And the Illinois defense shut the Nittany Lions down, with Tarique Barnes a menace in the Penn State backfield. 
It made it seem like Nittany Lions quarterback Sean Clifford wasn't healthy enough to throw. That was a wrong assumption. Clifford just led on a four-play, 93-yard drive that ended in a 42-yard touchdown pass to KeAndre Lambert-Smith. Now, Clifford got bailed out by Jahan Dotson climbing the ladder to snatch a ball away from Illinois nickel back Quan Martin, but three completions on three attempts for 89 yards shows Clifford is apparently just fine.
A side note on that Dotson catch over Martin. The Illinois defensive back had a passive approach to the play. He sat back, waiting for the ball to get to him. Dotson was proactive and went up for the ball to win it.
***
Art Sitkowski will start at quarterback for Illinois today at No. 7 Penn State. 
"I think he's continued to progress every day and has been full strength through the course of the week," Illinois coach Bret Bielema said about Sitkowski during his pregame interview with Voice of the Illini Brian Barnhart. "(Brandon Peters) did get cleared during the middle of the week. Just really didn't feel that it was in his best interest to get back out there. He's fully cleared, but it wasn't right at 100 percent. Especially with the injury he had, if he took another shot to it, it could be something that sets him back for a while.
***
Illinois defensive coordinator Ryan Walters is available to the media once a week on Mondays. Limited opportunity, sure, but he regularly gives good insight to his "half" of the team.
On what developmental group showed during bye week
"I saw improvement from the last time I had really been able to get down and coach those guys. A lot of times the development group is on the scout team and you're focused on getting the travel roster ready to go play the game. To see some of the younger guys like Prince Green, for example, just from where they were in the start of fall camp to where they are now and their maturity and being comfortable within the system and playing faster, you saw jumps there for sure."
On challenge of Penn State offense
"(Wide receivers Jahan Dotson and Parker Washington) obviously have a lot of speed on the perimeter. They put them in multiple spots. They get the ball out to them quick on some now screens and some RPOs. They run really good routes down the field. Their tight ends are a problem. They're big, they're physical. You'll get 12 personnel pictures and you'll also get empty and 10 personnel pictures out of the same personnel grouping. Our hands will be full with trying to combat that not only from a schematic standpoint but also from a personnel matchup standpoint as well. They're a Top 10 team for a reason."
On improved defense (but with room still to grow)
"Obviously we haven't done enough, right? It's a team game and a lot of the games that we lost, we were ahead in the fourth quarter and gave up points. We have to be better. We can't control what is going on throughout the course of the game other than when we're on the field. It's pivotal in any game to try to win the turnover margin and specifically get off the field in third downs, I think that's definitely something we can be better at in order to give our offense more possessions and chance to put up points on the board. Obviously we haven't done a good enough job of that as of late."
***
Roster building is clearly an important subject for Illinois coach Bret Bielema. And the new Illini leader will have his work cut out for him this coming offseason when he loses 22 super seniors and an untold number of other players given the necessity to get back to 85 scholarship players and speed up the process of adding players that fit what he wants to do offensively and defensively.
How might Bielema build? Look no further than what Penn State coach James Franklin has done. The Nittany Lions' approach intrigues the Illini coach.
"I think (Franklin) has done a nice job of assembling the roster," Bielema said earlier this week. "Very unique in the fact that when I came here, I didn't expect to see what I saw. I knew I'd see good players but he's kind of assembled, especially on the defensive side of the ball, their best guy up front is a transfer; two safeties have played junior college football. Their roster is made up of a lot of really highly-recruited high school players but also some guys they've added through the transfer portal as well as junior college transfers."
***
There's actually a football game today. Wild, I know. The conversation about Illinois football this week locally and nationally and all over social media has been about Bret Bielema's Monday comments about the state of his roster as it pertains to the recruiting he and his staff prioritized during the bye week.
Critics said Bielema threw his players under the bus. Bielema said his comments were taken out of context. Nobody emerged as a winner out of all of the hand wringing and "controversy." 
So ... football game. Illinois faces its most difficult challenge of the season today in Happy Valley. It's the Illini's first game against a ranked opponent this fall, and it just so happens to come against a top 10 Penn State team.
The Nittany Lions might even be close to full strength. Starting quarterback Sean Clifford practiced this week and is warming up at Beaver Stadium per reports. Not exactly good news for Illinois given how well Clifford has connected with wide receivers Jahan Dotson and Parker Washington this season.
Illinois could also have its regular starting quarterback for today's game. Brandon Peters was apparently cleared this week. Bielema sort of talked around the issue, but there's no real clarity if it will be Peters or Art Sitkowski against Penn State. The real curveball would be Ryan Johnson. (Not that Johnson is at all expected to play ... it would just be interesting).
The line for today's game sits at 24 points favoring Penn State, which is the highest it's been all week. So regardless of the quarterback situation for either team, bettors are banking on a blowout by the Nittany Lions. The line wouldn't have grown from 19 when it opened to 24 an hour before kickoff otherwise. 
We'll see.
Scott Richey is a reporter covering college basketball at The News-Gazette. His email is srichey@news-gazette.com, and you can follow him on Twitter (@srrichey).