Gameday Central | Illinois 31, Chattanooga 0; FINAL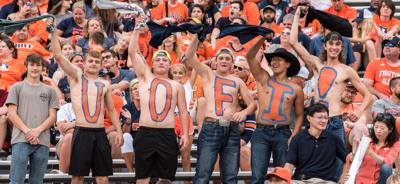 Follow along with beat writer Scott Richey all night from Memorial Stadium as Illinois takes on Chattanooga:
***
Here's what else I'm looking for tonight between Illinois and Chattanooga. A few notes with kickoff about 35 minutes away at Memorial Stadium:
- Illinois has never lost to an FCS opponent. That's the kind of history the Illini aren't looking to make.
- An Illinois win would mean the first undefeated run through nonconference play for the Illini since 2011. Then it was part of a 6-0 start that quickly became a 6-6 regular season. Now it would also mean hitting the halfway mark to bowl eligibility.
- Bowl game projections after last week's games (Illinois was off, of course) had the Illini in either the Guaranteed Rate Bowl in Phoenix or the Pinstripe Bowl in New York. As far as late December destinations go, give me Phoenix 100 times out of 100.
- A key for Illinois tonight? Not turning it over four or five times. The Illini coughed it up four times against Virginia and five at Indiana if you count Brian Hightower's fumbled lateral on the final play of the game against the Hoosiers. The official NCAA stats don't count Hightower's fumble, but the play-by-play from that game does denote the fumble and an Indiana recovery even with the clock at 00:00.
- Jamal Woods (knee) and Alec Bryant (concussion) are both dressed for tonight's game after missing the Virginia game. They'll provide needed depth on the defensive line and at outside linebacker, respectively. Bryant's return is probably more important given Ezekiel Holmes is out for the season with a right knee injury. Holmes is on the field, but with a brace on and getting around on crutches. Hopefully somebody pointed out the elevator to him at the Smith Center because he hobbled up the stairs from the weight room earlier this week.
***
The 1-hour warning cannon just went off at Memorial Stadium. That's the first reminder to fans to start making their way into the stadium for the game. Not sure who it reached given the 7:30 p.m. kickoff meant a pretty thing tailgate crowd in the late afternoon since most people were still at work.
The crowd is something that's got me interested about tonight's game. Nearly 10,000 free tickets were distributed to Illinois students, so, in theory, the north end zone will be full and so will part of the east stands. We'll see how full this place gets. I'm sort of not expecting much of a crowd given it's a Thursday night and an FCS opponent. 
***
Illinois legend Dick Butkus is in town for tonight's game. His first interaction with the Illini linebackers was as good as you could have hoped.
***
Can there be a "must win" game in late September? Sure. Especially when you're playing an FCS opponent, have never lost to an FCS opponent and can get halfway to bowl eligibility with a win.
At minimum, Illinois' Thursday night matchup with Chattanooga falls into "can't lose" territory. Making it a little more interesting, of course, is that this isn't some run of the mill FCS program. The Mocs are ranked ninth nationally at their level, have a defense that's caused some havoc in opposing backfields through three games and boast a tough-to-bring-down running back.
Not a bad test for the Illini to wrap up nonconference play. A win against Chattanooga would give Illinois its first undefeated slate of non-Big Ten games since 2011 and stand as the best start to as season since that year, too. Of course, that was kind of a disaster of a season with six wins, then six losses and then a fired coach.
The key element to watch in this game, of course, is whether or not the Illinois defense will give up a touchdown. The Illini have allowed just three field goals at home. Two to Wyoming in the season opener and the third the last time out to Virginia. The first string defense lobbied to get back on the field at the end of the Virginia game with the Cavaliers threatening at the goal line. That touchdown-less streak for opposing offenses is something Illinois values.
Scott Richey is a reporter covering college basketball at The News-Gazette. His email is srichey@news-gazette.com, and you can follow him on Twitter (@srrichey).