Gameday Central | Illinois 72, Kansas State 64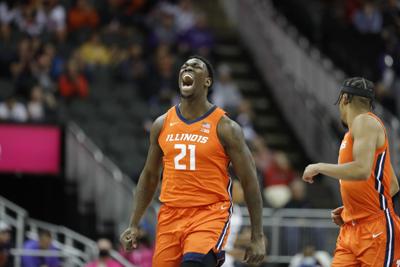 Right here at IlliniHQ.com will be the only place to find comprehensive coverage of tonight's Hall of Fame Classic game between Illinois and Kansas State. Follow along with beat writer Scott Richey throughout the game:
***
Doesn't look like Illinois will be at full strength again tonight against Kansas State. Freshman guard Luke Goode is dressed for the game, but he hasn't done anything during pregame warmups other than some casual shooting. Jumper still looks good, but it appears back spasms will hold the Fort Wayne, Ind., native out for a second straight game in Kansas City, Mo.
Strength and conditioning coach Adam Fletcher put Goode through some stretching exercises earlier today at the team hotel, but there's not much that can be done for back spasms other than wait for them to go away. 
The way Goode has played very early in his Illinois career, though, is what the Illini were missing in last night's loss to Cincinnati. The 6-foot-7 wing just goes hard. Effort has not been a problem with him.
***
The number of connections between the Illinois and Kansas State programs is actually kind of wild. But both Illini coach Brad Underwood and Wildcats coach Bruce Weber downplayed those storylines heading into the game.
"A long time away," Underwood said, referencing the number of years since he was an assistant at Kansas State (a decade) and played at Kansas State (considerably more than a decade). "I've known Bruce for many years. We forget about all those things when the game starts and we've got to compete."
Weber expressed a similar feeling. Particularly since tonight's game is playing out at a neutral site.
"If Brad was coming back to Bramlage, it would be one thing," Weber said. "Or if we were going to Champaign, it would be another thing for us — for me, at least. ... For the players, they don't know or care. They just know they're rated in the top 20, and it's a challenge. They've got a really good big guy. 
"This is about mental toughness. They got their butts kicked. You know they're going to come ready to play. We had a hard fought game against a very good team. Now, can we come back with that same intensity and be a little better execution?"
***
Let's just get this out of the way at the start. 
Monday night's loss to Cincinnati — a second straight after the loss at Marquette a week prior — gave Illinois consecutive losses for the first time since dropping Big Ten home games to Maryland and Ohio State last January. That was the only time in 2020-21 that the Illini lost two in a row.
The last time Illinois dropped three straight? That would be the four-game losing streak in February 2020 with losses to Iowa, Maryland, Michigan State and Rutgers before the Illini won five of six to end the COVID-shortened season. 
Three straight losses is on the table tonight in Kansas City, Mo., with No. 14 (for now) Illinois set to face Kansas State at 6 p.m. at T-Mobile Center in the consolation game of the Hall of Fame Classic. 
𝐆𝐚𝐦𝐞 𝐃𝐚𝐲!🏀 Hall of Fame Classic🆚 Kansas State 🕕 6:00 PM CT📺 ESPNEWS#Illini | #EveryDayGuys pic.twitter.com/SWM9b55WPq

— Illinois Basketball (@IlliniMBB) November 23, 2021
The Illini got throttled Monday night in a 20-point Cincinnati win. The Wildcats faced a similar deficit in the first half to No. 13 Arkansas, but rallied to only lose by eight to the Razorbacks.
Illinois coach Brad Underwood was fairly straightforward when he said tonight's game against Kansas State would create the situation where the Illini would "see what our character is." 
How Illinois responds to the unmitigated disaster that was the final 32 minutes of its loss to Cincinnati will be revealing. That game left Underwood wanting when it came to leadership and toughness from his team. Who will step up tonight against the Wildcats?