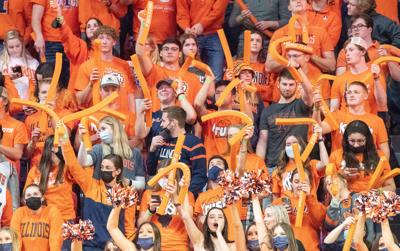 Follow along with beat writer Scott Richey all night from State Farm Center:
***
Illinois coach Brad Underwood basically went stream of consciousness when discussing the Rutgers team the Illini will face tonight. Here's what he had to say ...
"We get a very good Rutgers team," Underwood said. " An NCAA tournament. A team that returns a lot. A team that is extremely well coached. A team that, in the past, we've had just battle royales with. This team is no different. Ron Harper Jr., it seems like he's been here forever. An outstanding player. One of the best in our league. Cliff Omoruyi is a guy that's made the jump from his freshman to sophomore year and has shown substantial growth. Paul Mulcahy and Caleb McConnell, all those guys are veterans.
"Those guys have a lot of experience and are very good basketball players. They've very tough and one of the better defensive teams and not just in the Big Ten, but in the country. There will be a physicality piece that we've got to be ready for. They have great size and great length. This team is not small. They're going to play Harper at the point some. There's a lot of length out there. We'll have to adjust to that, and the game really starts when the ball goes up on the glass because they're a team that's extremely long and athletic. If we don't hit them, they can be very effective on the glass. It will be a challenge."
***
Will tonight's game be the living embodiment of the Spider-Man meme? Not entirely. With Myles Johnson now playing at UCLA, Rutgers lost its closest approximation of Kofi Cockburn. Illinois will still have the most physically dominant big man on the court, and that can be (and has been) a game changer.
But Illinois and Rutgers do have some similarities.
"We know that Rutgers is a physical team," Illinois wing Jacob Grandison said. "We impose our physicality on other teams. That's a big part of who we are, and they also do the same thing on the offensive glass and being physical on defense. I think it's going to be a good one — just a bloodbath like coach says — and the more physically and more tough team will win."
***
Illinois hasn't always fared that well in the early December Big Ten games after the conference started playing them in the 2017-18 season. The Illini, in fact, lost both that season and in 2018-19 before a split in 2019-20. Last year's pandemic-affected schedule was a break from the norm.
𝐆𝐚𝐦𝐞 𝐃𝐚𝐲!🏀 Big Ten Opener🆚 Rutgers🕕 6:00 PM CT📺 ESPN2🎟 https://t.co/dTBCCr0eI6#Illini | #EveryDayGuys pic.twitter.com/JSKZCEIttz

— Illinois Basketball (@IlliniMBB) December 3, 2021
Now, Illinois has a chance to get a jump start on its coveted Big Ten title. First up is tonight's game Rutgers. Then the Illini travel to Iowa City, Iowa, for a Monday game against Iowa, which (if we're being honest) will probably have a conference loss given their game tonight at Purdue.
"The game gets to a different place, different level, when Big Ten games roll around," Illinois coach Brad Underwood said. "Obviously, these two games in early December become very important. Everybody's going to play one at home and one on the road establishing who you are. It's one of the reasons we play the toughest schedule we can prior to that is to make sure we get ourselves ready for these games."
***
Big news already from Champaign. Illinois will be wearing its white, script "Illinois" throwbacks tonight for the Big Ten opener against Rutgers. 
👀 🔥 #Illini | #EveryDayGuys pic.twitter.com/XKuJx0zqkf

— Illinois Basketball (@IlliniMBB) December 3, 2021
Let's be honest, it's the Illini's best look. They should probably just wear this throwback, the "Fighting Illini" orange throwback and then find a blue throwback of some sort. Or maybe just not wear blue. It's been an unlucky color. Not saying I called it, but ... I kind of called it.
I have no foreknowledge of this, but I did have a feeling this morning that the script throwback would be the move tonight.

— Scott Richey (@srrichey) December 3, 2021
Brandin Podziemski, as always, is the first Illinois player on the court. No surprise there. The freshman guard is the first out before every game. He also had some news to share. More confirmation, actually, of what Brad Underwood said Thursday. The Illini will have 14 of 15 players available tonight against Rutgers, with Andre Curbelo ruled out again. 
So that's a mostly healthy Illinois to face Rutgers in the first Big Ten game of the season. The Scarlet Knights will counter with an also mostly healthy team. Senior guard Geo Baker has been ruled out for a third straight game with a hamstring injury. Not exactly a one-for-one, but both teams would probably be better off with their injured player on the court.