Gameday Central | Illinois 87, Iowa 83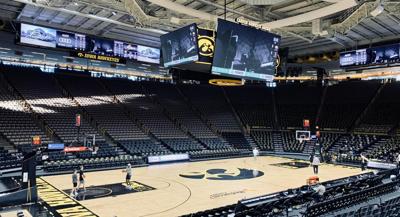 Follow along all evening with beat writer Scott Richey from Carver-Hawkeye Arena: 
***
Brad Underwood isn't quite as interested in his team repeating the physical successes of Friday night's blowout win against Rutgers. Obviously, the Illinois coach won't mind if Alfonso Plummer puts up another 20-point performance or if Kofi Cockburn is dominant in the paint. 
What Underwood is looking for, however, is the same type of mental fortitude in his team. Both in the way the Illini prepared for the Rutgers game and how they executed come game time at State Farm Center. More of that in the Big Ten is the ideal. The approach and focus.
"That's what I want to push repeat on," Underwood said. "That's the way we've got to approach the game from a mental standpoint 20 times in league play. Those are the things. I thought we were focused. I thought we were dialed in. I hope our effort is never an issue. I thought we played really hard.
"The mental side of it is what I'm challenging our guys to. You've got 20 of these. You take a mental nap, and you lose. It doesn't matter who you play. That's what I want to try to duplicate again and again and again."
***
Here's some of what Illinois coach Brad Underwood had to say yesterday during his pregame Zoom: "Quick turnaround. Game two of Big Ten play against a very underrated and very good Iowa Hawkeyes team. Coming off Rutgers, I thought it was our best performance on both sides of the ball. The defensive numbers, I thought, were a little bit skewed, but I thought we did a pretty solid job there.
"Offensively, I loved the way we played. The assists. The efficiency. The turnovers were down. I thought we had the opportunity to step on them and put the game out of reach — something we had not been doing — and I thought we were able to do that. We didn't spend a lot of time talking about that game. We kind of moved on from that right into Iowa."
***
Andre Curbelo has not come out on the court until official warmups start the last three games for Illinois. All three have been at home, though, so he's had a more comfortable place to hang out before the game.
Today in Iowa City? Curbelo came out for the pre-warmups shooting/workout. He's also in sweatpants, so it looks like Illinois coach Brad Underwood's update yesterday — "same status" for the sophomore point guard — means he's out again tonight against the Hawkeyes.
At the other end of the court, I wasn't sure if Keegan Murray was playing tonight for Iowa while doing a pregame radio appearance with Scott Beatty and Loren Tate back in Champaign. There was a player on the court who looked like him, but his twin brother Kris is also on the team. Now both are on the court and dressed, so it appears Iowa will have the nation's leading scorer available.
***
Good afternoon from Carver-Hawkeye Arena in Iowa City, Iowa. The first Big Ten road game of the 2021-22 Illinois basketball season is 90 minutes away from tip here in one of the more unique arenas in the conference. Just one big bowl. 
Illinois hasn't won in Iowa City since Malcolm Hill was playing. So, doing the math, none of these Illini have beaten the Hawkeyes on their home court. Tonight might be the night even though Iowa is a slight favorite at home. 
𝐆𝐚𝐦𝐞 𝐃𝐚𝐲!🏀 @ Iowa🕕 6:00 PM CT📺 FS1#Illini | #EveryDayGuys pic.twitter.com/JOMFVm0ok6

— Illinois Basketball (@IlliniMBB) December 6, 2021
Unless there's been a change, Illinois will be without sophomore point guard Andre Curbelo for a fourth straight game. They've won all three to date with Curbelo on the bench with his undisclosed injury/issue/malady (we keep asking, just get status updates that he's out). 
It's the orange "Fighting Illini" throwbacks for Illinois tonight at Iowa. So, yes, that means Brandin Podziemski is out on the court ahead of warmups. Tip in about 2 hours at Carver-Hawkeye Arena. #Illini

— Scott Richey (@srrichey) December 6, 2021
Illinois coach Brad Underwood, meanwhile, is expecting Iowa's star sophomore to play. Keegan Murray, who is the leading scorer in the nation, missed Friday's game at Purdue with an ankle injury.
"I always expect guys who are listed out to come back and play against us," Underwood said. "We're planning on him playing. Reading Fran's comments after the Purdue game, he thought he would play in the Purdue game. It just made common sense he would be ready for our game being home. It's early in the year, you're trying to get guys healthy as you can, but it's a Big Ten game. He'll be ready."