Good Morning, Illini Nation: A tip of the cap to Deon Thomas
Welcome to "Good Morning, Illini Nation," your daily dose of college basketball news from Illini beat writer and AP Top 25 voter Scott Richey. He'll offer up insights every morning until practice tips off.
MORE: Click here to submit your Illini questions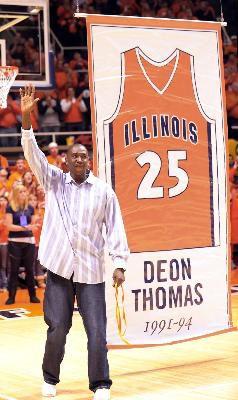 Deon Thomas jumped back into Illinois basketball prior to the 2017-18 season when he was hired as one of two radio analysts — along with Doug Altenberger — for the Fighting Illini Sports Network. That relationship was further reinforced Wednesday when Thomas' hire as associate director of development for the DIA was announced.
It makes a lot of sense and not just because of Thomas' history on the court for the Illini. Of course, Thomas is still the program's all-time leading scorer, and he'll be inducted in September in the 2019 Illinois Hall of Fame class.
Thomas' status as one of the all-time greats in Illinois athletics will certainly open doors. His new role in development is essentially a sales job on steroids, and there might not be a better communicator of what Illinois athletics can mean for a student-athlete's long-term future than the Chicago native. Thomas showed that while playing a long career overseas, as an athletic director and coach and now as an analyst both for Illinois basketball and on the Big Ten Network.
To top it off, Thomas is an incredibly personable and thoughtful guy. And, full disclosure, he's been nothing but open and helpful to me the past two years.
Still, Thomas will always be tied directly to Illinois basketball because of his stellar career. These three moments certainly stand out:
Record setter
Illinois' 120-116 double overtime win against Wisconsin-Milwaukee on Dec. 3, 1990, saw Thomas set the program's freshman scoring record. The 6-foot-9 forward shot 13 of 16 (81 percent) from the field for the bulk of his 34 points — a record that was broken last season by Giorgi Bezhanishvili's 35-point effort against Rutgers.
The big record
American didn't stand much of a chance against Illinois on Dec. 11, 1993, and Thomas' 34 points were a big reason. That game wouldn't have been very memorable save for the fact Thomas broke Eddie Johnson's all-time career scoring record in the process. Then he tacked on 423 more points the rest of his senior season to finalize the new (and untouched) record at 2,129 points.
Free throws matter
Thomas' path to Illinois' career scoring leader was paved by his four-year 60.1 field goal percentage, which ranks third all-time in program history. He wasn't quite as consistently efficient at the free throw line, but Ohio State found out the hard way that he could be. The Buckeyes sent Thomas to the line 22 times on Feb. 15, 1994, and he made 19 of them (out of his 24 total points) in the Illini win.