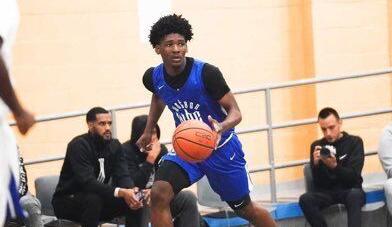 Welcome to "Good Morning, Illini Nation," your daily dose of college basketball news from Illini beat writer and AP Top 25 voter Scott Richey. He'll offer up insights every morning on Brad Underwood's team:
Illinois' recruiting footprint on the East Coast shifted south after the coaching staff changes in the spring of 2021. There's a different focus centered on the DMV now that Chester Frazier is back in Champaign. The former Illini guard and Baltimore native's connections are in that region. 
So there's been a greater emphasis on prospects in the DMV than, say, New York like there was when Orlando Antigua was on staff. Except, it seems, for the Christ The King (N.Y.) roster. Illinois offered Class of 2024 forwards Dwayne Pierce and Qin Pang this summer, and according to ProInsight director of scouting Andrew Slater reaffirmed an offer to Class of 2025 guard Markell Alston this week.
The Kiyan Anthony mentioned in the above tweet is the Kiyan Anthony who is the son of Syracuse national champion and longtime NBA pro Carmelo Anthony. The younger Anthony is a four-star recruit in the 2025 class.
Alston, who played for the Royals as a freshman last season, is a 6-foot-2, 180-pound point guard. He's currently unranked in the Class of 2025 but holds other offers from UAB, George Mason, Manhattan and Creighton.
Scott Richey is a reporter covering college basketball at The News-Gazette. His email is srichey@news-gazette.com, and you can follow him on Twitter (@srrichey).