Welcome to "Good Morning, Illini Nation," your daily dose of college basketball news from Illini beat writer and AP Top 25 voter Scott Richey. He'll offer up insights every morning on Brad Underwood's team.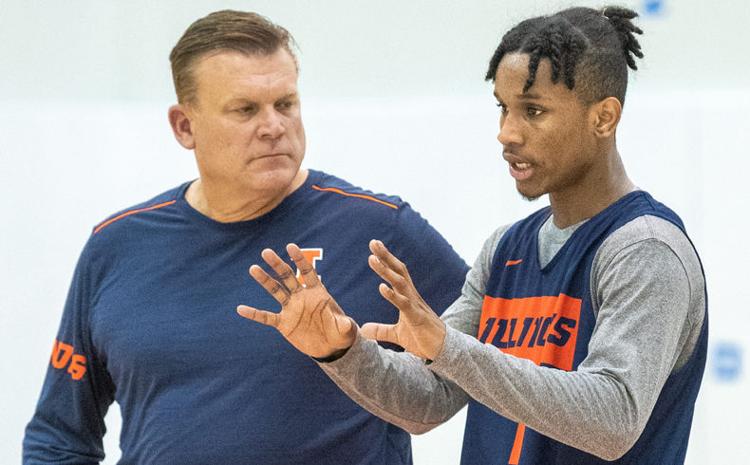 The preseason Associated Press Top 25 drops at approximately 11 a.m. today. Illinois basketball fans will find out if the earliest of returns on the Illini match the hype.
A different ranking came out over the weekend, with new KenPom ratings available. Since there is zero game data just yet — the countdown to the 2019-20 season stands at 16 days — the first ranking is predictive. Illinois checks in at No. 35, which puts Brad Underwood's third team at seventh in the Big Ten behind No. 1 Michigan State, No. 7 Purdue, No. 11 Ohio State, No. 16 Maryland, No. 21 Michigan and No. 34 Indiana.
Here's what we can learn from the initial offering from KenPom:
— Illinois is currently projected to go 19-12 overall and 10-10 in the Big Ten per KenPom. That includes an 11-2 overall start in the 2019 portion of the 2019-20 season with the projected losses at Arizona on Nov. 10 and at Maryland on Dec. 7.
— The Illini are currently projected as the 20th most efficient offense in the country. That's good for fifth in the Big Ten. Their current projected adjusted offensive efficiency is 111.
So what does that mean? Adjusted offensive efficiency is a calculation of how many points a team will score per 100 possessions adjusted for quality of opposing defenses, the site of each game and when each game was played with recency a factor.
Illinois finished the 2018-19 season with an AOE of 109.1 to rank 83rd in the country. The highest AOE from the last 10 seasons came in Bruce Weber's second-to-last season in 2010-11, with Illinois posting a 113.3 AOE to rank 34th nationally. Demetri McCamey led that team to the NCAA tournament putting up 14.6 points, 6.1 assists and 3.4 rebounds per game.
— Defensively, this year's Illinois team ranks 51st nationally in the initial KenPom rankings with a 94.5 adjusted defensive efficiency. The ADE is the calculation of how many points a team gives up per 100 possessions with the same factors used to determine the offensive rating.
Illinois finished last season with an ADE of 101.1 to check in at 108th nationally, but it was an improvement from Underwood's first season. The lowest ADE from the past 10 seasons also came in 2010-11. Mike Tisdale anchored the Illini defense that season as a top 5 shot blocker in the Big Ten, while Brandon Paul frustrated opposing guards.