The Big Ten basketball world gathered in Rosemont on Wednesday for media day. Here's what college basketball writer SCOTT RICHEY learned:
Depth gets deeper
Coaching depth in the Big Ten was already high with the likes of Michigan State's Tom Izzo and Purdue's Matt Painter leading the way. That depth got a potential boost with Nebraska's Fred Hoiberg and Michigan's Juwan Howard. Those additions, though, meant a change in one particular pecking order.
"Personally, I'm a little down because I used to feel really good about me being the best player in the room," Northwestern coach Chris Collins deadpanned. "And if I'm being quite honest, I think I just got knocked down a couple pegs with those guys."
Not all coach speak
Turns out a couple Big Ten coaches are, in fact, kind of hip. At least Ohio State's Chris Holtmann, who complimented emcee Satvik Patel on his "drip" wearing a gold-accented suit coat. Then there's Hoiberg, whose Cornhuskers had a Rick Ross performance at their opening night event.
"I'm a huge fan," the new Nebraska coach said, maybe earnestly. "I have a pacemaker. The bass was so loud, I thought my pacemaker was going to explode. Our guys loved it. They were up on stage with him, and overall, it was a great night for our team."
Pikiell excited for Scarlet Knights' future
No coach delivered as passionate an evaluation of his program than Rutgers' Steve Pikiell. The Scarlet Knights are only 44-54 in Pikiell's three seasons, but they did more than double their Big Ten victories last season, improving to 7-13 from 3-15 in 2017-18.
"I'm excited really where the program is," Pikiell said. "It's kind of taken me a little time to get it where I want it. I know what we were picked in the league, and I said to my players, because the league is great, this league has unbelievable coaches (and) these are unbelievable universities. But Rutgers is pretty good, and we're deep."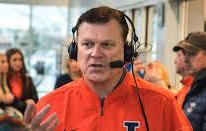 Terps generating buzz
Expectations are actually higher at Maryland. The Terrapins, with the bulk of their team returning save for Bruno Fernando, were picked to finish second in the Big Ten in the official unofficial preseason media poll. Maryland coach Mark Turgeon is just fine with that level of expectation for his team.
"We're all embracing it," Turgeon said. "We want more, and we want to be great. We're excited. We know we have a good team, and if we didn't think we were good and we were picked second, we'd be worried. But we think we have a good team."