Good Morning, Illini Nation: Best of Bezhanishvili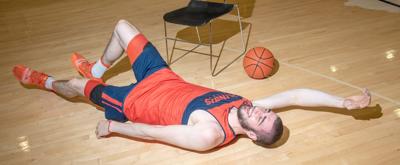 Welcome to "Good Morning, Illini Nation," your daily dose of college basketball news from Illini beat writer and AP Top 25 voter Scott Richey. He'll offer up insights every morning on Brad Underwood's team: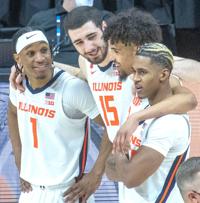 Giorgi Bezhanishvili's decision to pursue a professional basketball career, announced Thursday afternoon, got me thinking about his time in Champaign. There's no other way to phrase it but unique. He was truly a joy to cover because that's how he embraces both life and basketball. 
Here's five memorable moments — on and off the court — from the past three years ...
Made for Zoom
The oddity of the 2020-21 college basketball season meant we never spoke in person with Giorgi — or any player or coach. His last two Zoom appearances, though, were certainly memorable. Before the regular season finale at Ohio State, he showed up with essentially his own entrance music, a hip hop song of unknown origin (it wasn't in English) blaring from his phone. He left the Zoom the same way.
Then there was the postgame Zoom following the Big Ten tournament championship game. Giorgi conducted his interviews alongside teammate/roommate Kofi Cockburn. It was ... amazing.
Snack time
Pre-pandemic meant court level access on gameday since that's where my seat was. Right behind the scorer's table adjacent to the Illinois bench. The lasting image from the 2019-20 season was Giorgi's frequent popcorn pilfering right before tipoff from one of the guys that runs the clock.
Media day
If there was ever a player built for media day, it's Giorgi. He was a hit in Rosemont at Big Ten media day ahead of the 2019-20 season, giving the rest of the conference and some national media a glimpse into what we saw all the time. It was at Illinois' media day before that season, though, that we first got a glimpse of the Giorgi-Kofi relationship. Talking with Kofi about Giorgi had rekindled his joy in basketball was a story I won't forget from that day.
One-on-one
Nearly two years ago I had one of my more memorable one-on-one interviews with Giorgi. He had just returned from an extended trip to both Austria and Georgia to see his family (the last time he was home because of the pandemic). We talked about multiple topics. What he saw as his role heading into his sophomore season. How being back in Georgia — a first in nearly four years — affected him. Then he did a photo shoot with our Robin Scholz where he hammed it up for the camera. It was a window into the full spectrum of his personality.
The record
A few things stand out about Giorgi's 35-point game against Rutgers on Feb. 9, 2019, beyond the fact he set Illinois' freshman scoring record. For one, he was hyper efficient, going 14 of 18 from the field and 7 of 8 from the free throw line. Secondly, Deon Thomas in the house calling on the game on the Fighting Illini Sports Network was kismet given it was his record that was broken. And third, Giorgi found it funny he broke the record against Rutgers because he played high school basketball in New Jersey and the Scarlet Knights (like many other programs) didn't actively recruit him.