Good Morning, Illini Nation: Change is afoot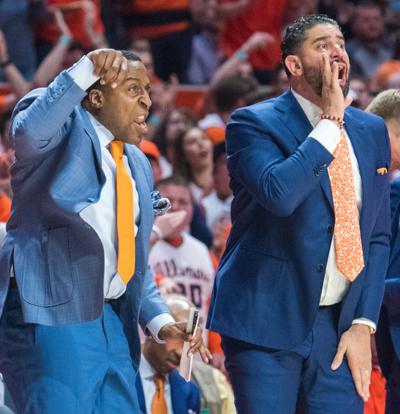 Welcome to "Good Morning, Illini Nation," your daily dose of college basketball news from Illini beat writer and AP Top 25 voter Scott Richey. He'll offer up insights every morning on Brad Underwood's team:
The latest in what's turned into a lengthy saga regarding Illinois' coaching staff came Monday when Kentucky beat writer Chris Fisher with 247Sports reported that Chin Coleman had informed Illini coach Brad Underwood he was leaving to join John Calipari's staff. A similar path multiple outlets have reported Orlando Antigua will also be taking.
Nothing has been made official yet. Every report of Antigua or Coleman leaving for Coleman has been via sources. The most interesting part of Fisher's latest missive was that the two assistant coach job postings at Kentucky expired Monday. Official news could happen at any time this week.
So let's get into the nitty gritty of what it means for Illinois. Losing two assistants is a blow given Antigua and Coleman's abilities both in recruiting and player development. It's not, however, the end of the world for the Illini, and Underwood hasn't been idle as these moves have been rumored for weeks now.
The only real deadline is having a full coaching staff by June 1 when the extended recruiting dead period ends and coaches can get back on the road to recruit. After a few new offers not long after the 2020-21 season ended, those effort have slowed as the coaching staff gets figured out.
Illinois has a head start in the Class of 2022 with commitments from Reggie Bass and AJ Storr, but there's more work to be done not only with that class but also in rounding out the 2020-21 roster. There's one big man spot to fill after Jermaine Hamlin hit the transfer portal, and maybe two depending on Kofi Cockburn's decision on the NBA draft.
The joint move Antigua and Coleman are expected to make has riled up the Illinois fan base. The reported financial commitment athletic director Josh Whitman was willing to make to Antigua with a four-year deal worth $1 million annually should perk up some ears in the assistant coaching world.
Not to mention the fact the Illini have won more Big Ten games than anyone in the conference the past two seasons, claimed the Big Ten tournament championship this past season and finished at No. 2 in the final AP Top 25 poll of the 2020-21 season. There's bound to be some real interest from other assistants hoping to round out Underwood's coaching staff.
But who do you want to see?