Good Morning, Illini Nation: Checking in on former Illini in the pros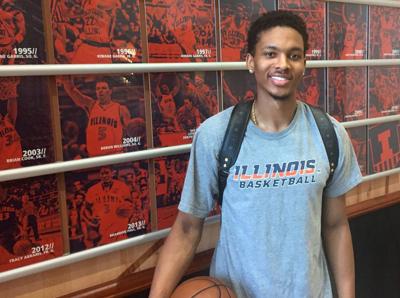 Welcome to "Good Morning, Illini Nation," your daily dose of college basketball news from Illini beat writer and AP Top 25 voter Scott Richey. He'll offer up insights every morning on Brad Underwood's team (or players that once called C-U home):
Just one game this week — 4 p.m. Saturday at home against Northwestern — provided the opportunity to do some Internet digging and find out how the former Illinois basketball players were faring in various professional leagues. As a note, all statistics are current as of Wednesday's games.
Meyers Leonard — Miami Heat
Leonard's trade from Portland has breathed some new life into his career. The 27-year-old big man has started every game for the Heat this season and is playing more minutes than any of his last three seasons with the Trail Blazers. Leonard is averaging six points and five rebounds splitting time in the Miami frontcourt with Kelly Olynyk.
Kendrick Nunn — Miami Heat
If Leonard's new opportunity in Miami gave him a fresh start, how do you quantify what Nunn has done in his first year in the NBA? The former Illinois and Oakland guard has also started every game and is averaging 15.9 points, 3.6 assists and 2.7 rebounds while shooting 34.6 percent from three-point range.
Matic Vesel — KK Škofja Loka
Vesel's time in Champaign was admittedly short, but he still counts as a former Illini. He returned to Slovenia after one season at Illinois and has played for Škofja Loka (just 23 kilometers northwest of his hometown Ljubljana) in the Slovenian Second League since. He's currently averaging nine points and 5.7 rebounds while shooting 37.5 percent from three-point range off the bench.
Leron Black — Minas Belo Horizonte
Black joined Minas in mid-December and was eligible to play in just a single game before the end of the year. His second season in Novo Basquete Brasil — the top league in Brazil — restarted Wednesday, and he's averaging 8.5 points and two rebounds in two games.
Michael Finke — BC Kalev/Cramo Tallinn
The Centennial grad and former Illini started his first pro season this year for Legia Warszawa Poland before moving on to BC Kalev/Cramo, which plays in both the Estonian-Latvian Basketball League and the highly regarded VTB United League. Finke is averaging five points and 5.5 rebounds in the VTB United League and 10.2 points and 4.8 rebounds in the domestic league.
Jaylon Tate — London Lightning
Tate is back in the National Basketball League of Canada after a year in Finland. Tate had his pro breakout in the NBLC two seasons ago. He made his debut for the Lightning — based out of London, Ont. — on Saturday and was scoreless while finishing with one rebound and one assist in five minutes off the bench.
Malcolm Hill — BK Astana
Healthy again after suffering a torn ACL last season in Germany, Hill is back on the court in the Kazakhstan National League, with BK Astana also playing in the VTB United League (where he'll face off against Finke on March 8). Hill is currently averaging 20.3 points, four rebounds and 3.8 assists while shooting 44 percent from there-point range in the VTB United League. Domestically in Kazakhstan, Hill is putting up 16.3 points, 5.6 rebounds and three assists and shooting 42 percent from beyond the arc.
Mike Thorne Jr. — Golden Eagle Ylli
Thorne signed with Ylli in late November after spending last season playing in the second-tier league in Georgia. Ylli is part of the Kosovo Basketball Superleague. Thorne played in two games at the end of December, averaging eight points and 5.5 rebounds, but he has yet to make his 2020 debut.
Rayvonte Rice — Hapoel Eilat
Rice moved to the Israel Basketball Super League after starting this season playing for Avotdor in the top Russian league. The Centennial grad made his debut in Israel on Dec. 29, coming off the bench before moving to the starting lineup the past three games. He's averaging 15 points and 4.8 rebounds and shooting 40.9 percent from three-point range.
Nnanna Egwu — Earth Friends Tokyo Z
After spending the past several seasons playing in either Australia or New Zealand, Egwu moved to Tokyo Z, where he plays in the second division of the Japanese B.League. The all-time blocked shots leader in Illinois history is averaging 10.8 points, 9.8 rebounds and 2.2 blocks through the midway point of the season.
Brandon Paul — Olympiacos
Paul moved from China to Greece in the offseason but wound up playing in just the Euroleague after Olympiacos created a separate team after being relegated to the second division of the Greek Basket League. Against the top competition in Europe, Paul is averaging 9.6 points and 2.9 rebounds while shooting 41.2 percent from three-point range.
Myke Henry — Oklahoma City Blue
Henry is back in the states after playing last season in Israel. The former Illinois and DePaul guard, who played 20 games for the Memphis Grizzlies in 2017-18, is in his fourth NBA G League stint and third with Oklahoma City Blue. A starter for OKC, Henry is averaging 14.1 points, 6.1 rebounds and two assists.
Jamar Smith — Unics Kazan
Smith is in his third season playing in the top league in Russia along with the VTB United League. The veteran 6-foot-3 guard is averaging 16.7 points and 3.5 assists and shooting 56.9 percent from three-point range in the domestic league, while putting up 15.3 points, 3.1 assists and 2.9 rebounds while shooting 43.1 percent from deep in the VTB United League.