Good Morning, Illini Nation: 4 coaches, 10 memorable performances
Welcome to "Good Morning, Illini Nation," your daily dose of college basketball news from Illini beat writer and AP Top 25 voter Scott Richey. He'll offer up insights every morning until practice tips off.
On Sundays, we'll dip into our vast News-Gazette archives and stroll Memory Lane. Today: As the 2019-20 schedule continues to develop, a look back at the 10 best nonconference wins by the Illini — under four different coaches — at State Farm Center over the last 20 years.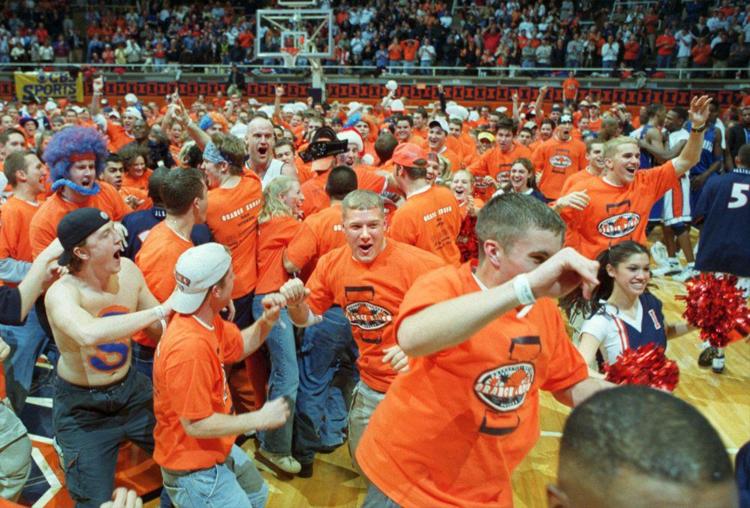 Illinois 87, Seton Hall 79
Dec. 9, 2000
Caption: Fans storm the court to celebrate after Illinois defeated Seton Hall.
Skinny: The Illini stormed back to stun the nation's seventh-ranked team in the first signature win of the Bill Self Era. "This is one of the biggest, funnest wins I've ever been a part of," Self said. "I'm sure the players feel the same way. Not very often does anyone come from 21 down against a Top-10 team to win." Overtime allowed Cory Bradford to tie Wally Lancaster's NCAA record of 73 consecutive games with a three-pointer, the guard draining a trey in the extra session to spark the win. "Cory played like there was a 100-pound sack on his back today," Self said.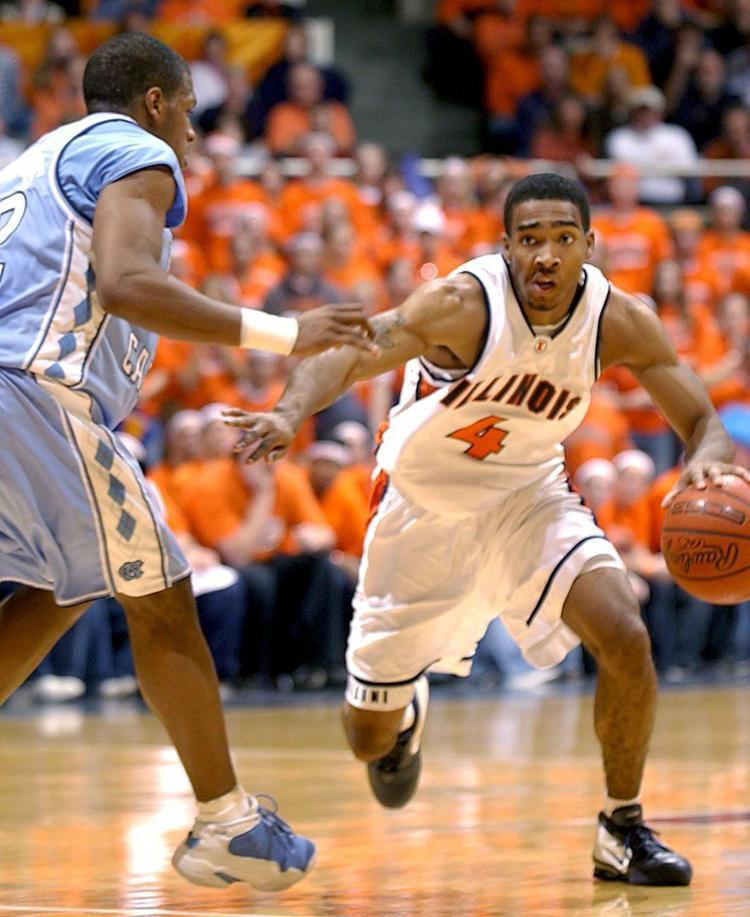 Illinois 92, North Carolina 65
Dec. 3, 2002
Caption: Luther Head drives past North Carolina's Rashad McCants (32) during the second half.
Skinny: Rolling to its biggest win against a ranked opponent since 1990, the Illini were led by Brian Cook (22 points, eight rebounds), Sean Harrington (20 points, six three-pointers) and freshman point guard Dee Brown (six assists without a turnover in 35 minutes). "Confidence is probably the most important thing in basketball," Bill Self said. "You can talk about how high you jump or how well you can shoot it, but if you're not confident, your feet get slow and everything else happens. We should leave out of here not overconfident, but confident to believe that we can be a good team."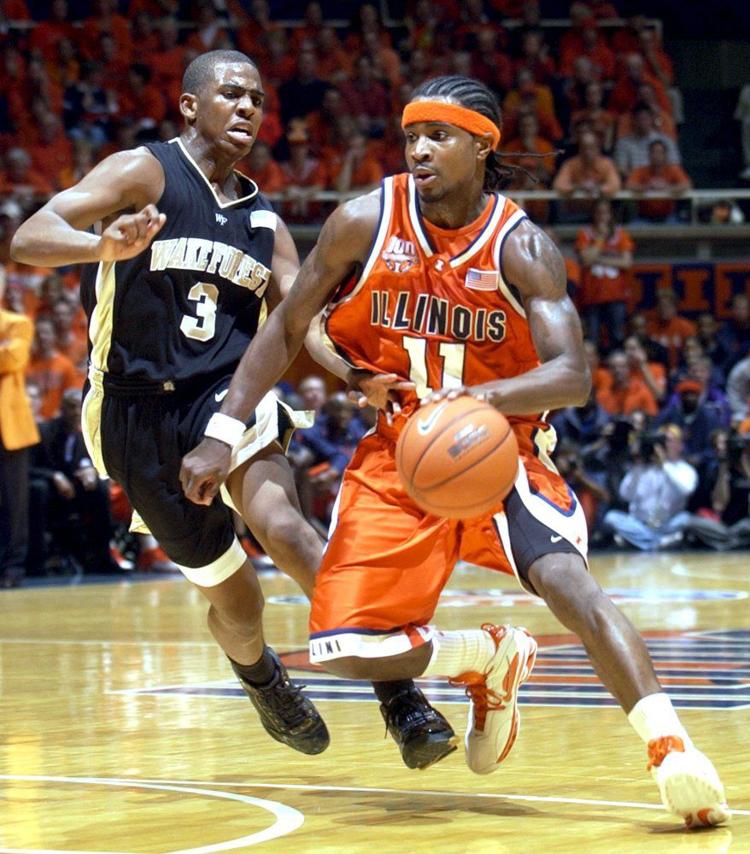 Illinois 91, Wake Forest 73
Dec. 1, 2004
Caption: Dee Brown drives around Wake Forest's Chris Paul during first-half action.
Skinny: As detailed in last Sunday's Good Morning, Illini Nation, the win against the top-ranked Deacon Demons vaulted Bruce Weber's Illini to No. 1 the following week. Illinois hit 11 three-pointers, dished out 27 assists and led by as many as 32 points. Said Weber: "It's not the end of the season. I hope we've got 30-something more games. It was a great test to see where we are. We performed well. But now there's a lot more tests to come."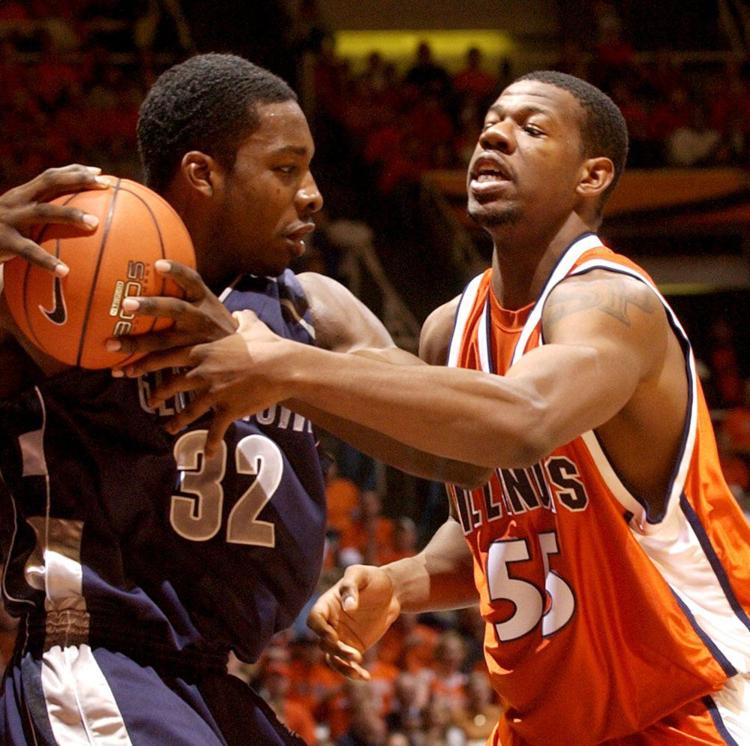 Illinois 58, Georgetown 48
Dec. 8, 2005
Caption: Georgetown's Jeff Green, left, beats Shaun Pruit to a rebound in the first half.
Skinny: The Illini's offense was ragged, but their defense was rugged as the Hoyas were held to 13 first-half points. The UI improved to 9-0 for the second time in three seasons under Bruce Weber. Said Weber: "We have not been good the first five minutes. That was something I talked about and emphasized, and we had a great start. It probably made the difference in the game, if you think about it."
Illinois 79, Vanderbilt 68
Dec. 8, 2009
Caption: Brandon Paul (3) looks to pass over Vanderbilt forward Jeffery Taylor during the first half.
Skinny: Demetri McCamey (23 points) and D.J. Richardson (16 points) helped the Illini top 76 points for the seventh time in nine games. They shot a season-best 59.3 percent and built a 46-36 halftime lead, the ninth time they has scored at least 40 points in a half. That happened only 11 times all of last season. "It was like they were out there playing H-O-R-S-E," Vanderbilt coach Kevin Stallings said. "And they were having a good day of H-O-R-S-E, too."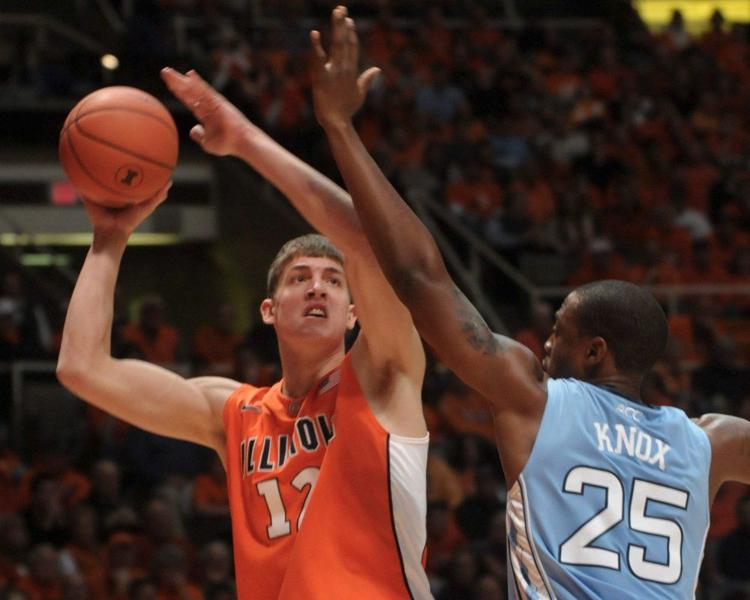 Illinois 79, North Carolina 67
Nov. 30, 2010
Caption: Meyers Leonard looks to pass over North Carolina's Justin Knox.Skinny: Much of the pregame buzz surrounded the eight McDonald's All-Americans on the court — seven of those in Carolina blue. But the Illini seniors played like it. Mike Tisdale, Mike Davis and Demetri McCamey combined for 51 points, 18 rebounds and 17 assists. Jereme Richmond (12 points) had the biggest impact among the game's freshmen, including preseason All-American Harrison Barnes (eight points). "The matchup was Illinois vs. UNC," Richmond said. "It wasn't Harrison Barnes vs. Jereme Richmond."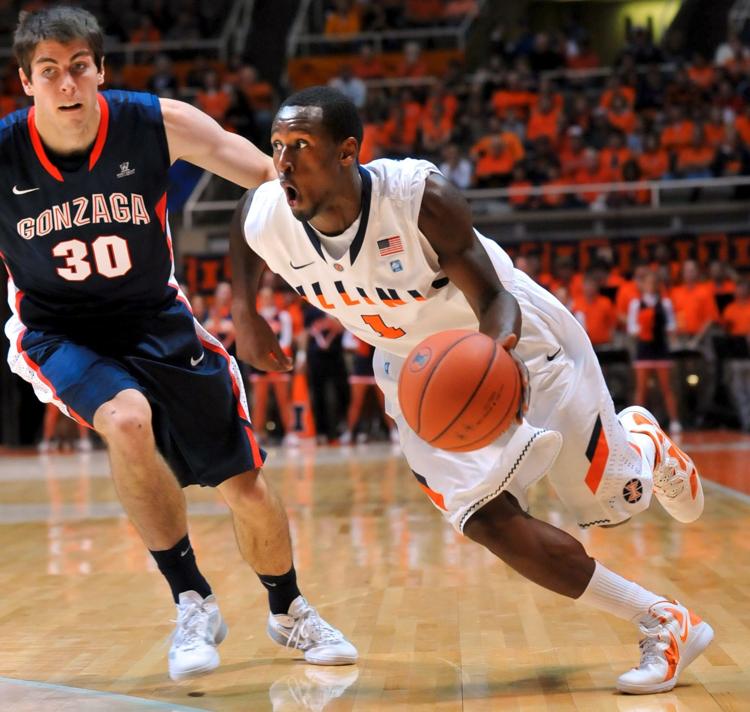 Illinois 82, Gonzaga 75
Dec. 3, 2011
Caption: Guard D.J. Richardson drives on Gonzaga's guard Mike Hart.
Skinny: The Illini improved to 8-0 for the first time since 2005-06 and continued to inch toward a spot in the Top 25. It was their biggest nonconference win at the Assembly Hall since the 2004-05 Final Four season as Meyers Leonard scored 21 and Brandon Paul and D.J. Richardson teamed for 32 points. "Nobody in America runs as good of a motion offense as Bruce does," Gonzaga coach Mark Few said. "He's really as good of a coach as there is in the country, both offensively and defensively."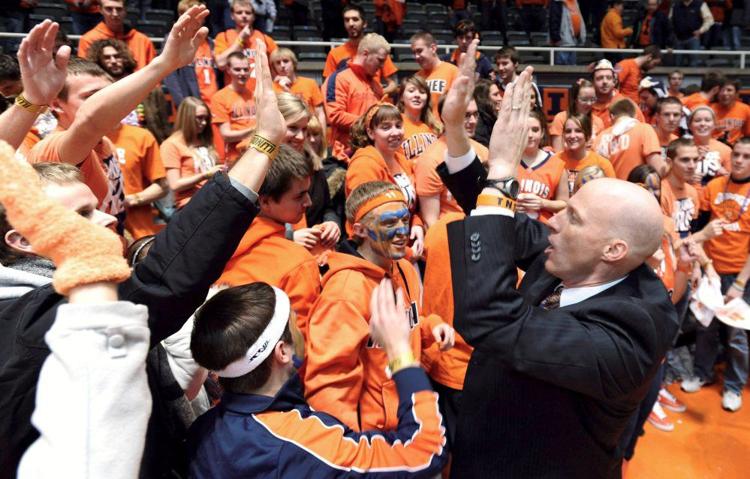 Illinois 75, Georgia Tech 62
November 28, 2012
Caption: Coach John Groce slaps hands with the Orange Krush following the Illini's win over Georgia Tech.
Skinny: The Illini remained spotless (8-0) in John Groce's first season behind Joseph Bertrand (15 points), Brandon Paul (15 points, seven assists, seven rebounds) and D.J. Richardson and Tyler Griffey (14 points apiece. It was the UI's fourth straight win in the Big Ten/ACC Challenge. Said Groce: "Even if you´re on the right track, if you sit still, you´ll get ran over. We´re on the right track, but we don´t want to sit still; we´re going to keep getting better."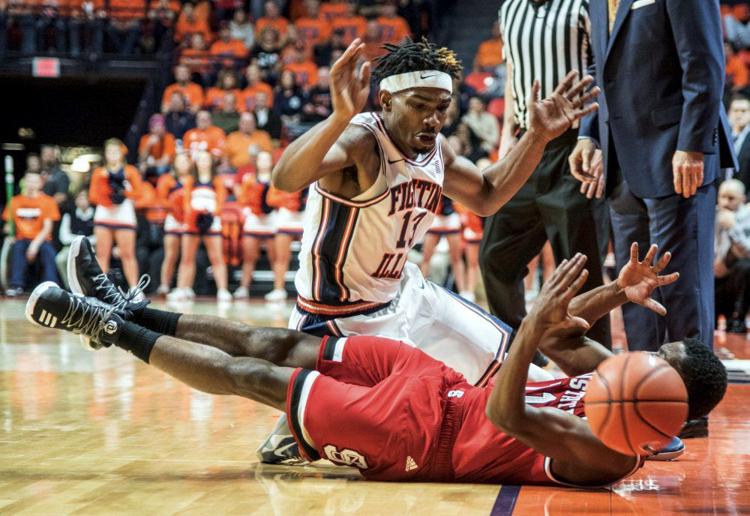 Illinois 88, N.C. State 84
Nov. 29, 2016
Caption: Tracy Abrams and North Carolina State guard Markell Johnson (11) chase a loose ball during the first half.
Skinny: A strong start to the second half — six consecutive made shots — helped Illinois overcome a slight halftime deficit and pick up its first win in the ACC/Big Ten Challenge since beating Georgia Tech in the 2012-13 season. Senior guard Malcolm Hill scored 17 of his game-high 22 points in the second half, doing his usual damage from the free throw line on 12-of-15 shooting. Said Tracy Abrams: "We put the ball in guys´ hands who were making plays. There was just a lot of guys out there playing their role at a high level. When we play like that, we can compete against any team."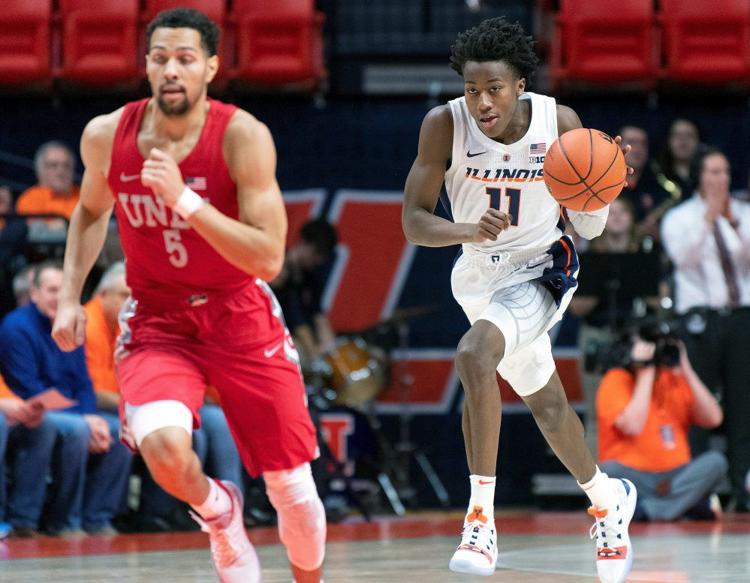 Illinois 77, UNLV 74
Dec. 8, 2018
Caption: Ayo Dosunmu (11) moves the ball down the court during the first half against UNLV.
Skinny: Andres Feliz scored a season-best 19 points as the Illini ended a three-game losing streak despite watching a 61-47 advantage with 8 minutes, 23 seconds remaining slowly disappear. "What happened for us was very important," said redshirt junior Kipper Nichols, who scored 12 points and grabbed four rebounds. "On top of getting the win, I think those last four, three minutes, I think we grew up ... actually having to win the game."