Good Morning, Illini Nation: Deeper dive with Dosunmu after Rutgers win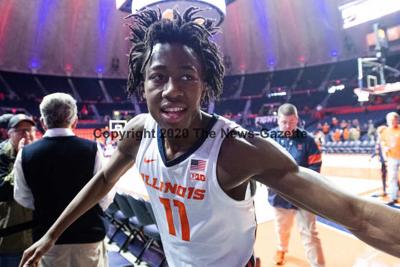 Welcome to "Good Morning, Illini Nation," your daily dose of college basketball news from Illini beat writer and AP Top 25 voter Scott Richey. He'll offer up insights every morning on Brad Underwood's team: 
Some games — a lot of games, really — not everything that's said in the sequence of postgame press conferences makes it into the first round of coverage. That's what this idea was conceived for last summer. There's no such thing as too much Illinois basketball coverage.
So, here's some extras from Illini sophomore guard Ayo Dosunmu after Saturday's win against Rutgers.
On what changed after halftime
(Coach Brad Underwood) just said do what we do. Get some fire. Get some energy going. At halftime we kept them to like 19 percent shooting, and we had about five kills. We were playing great defensively, but we just couldn't get going offensively. I feel like the ball was stagnant. I felt like we were a little too antsy and weren't making the extra passes. We were taking good shots — that's good — but we look to take great shots. I feel like in the second half we settled in a little better and made the right plays.
How he viewed the win
This game I feel like was probably more impressive than the game on the road at Wisconsin. ... When you get that win, "OK, we got the road win. What are you going to do after that?" I felt like we could have come out in this game and been complacent. We came out this game and didn't shoot the ball well in the first half, but we kept our head high. Every possession we pretty much defended. The only time they got easy baskets was when we had live ball turnovers. When our defense was set, I feel like it was very hard for them to score. 
After pouring over the box score at the podium
I looked at my turnovers. I had four turnovers. I wasn't proud of that. I've got to take care of the ball. ... I felt like I got a bit too careless early on and let two slip by. I had, really, two bad turnovers this game. That's one thing I've been trying to keep down since the beginning of the season. When I saw the No. 4 that was alarming to me, but I know I can get that down.