Good Morning, Illini Nation: Epps in rare freshman company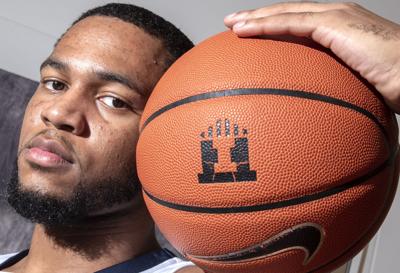 Welcome to "Good Morning, Illini Nation," your daily dose of college basketball news from Illini beat writer and AP Top 25 voter Scott Richey. He'll offer up insights every morning on Brad Underwood's team:
Jayden Epps' 21-point effort in Monday's win against Monmouth put the Illinois freshman guard in fairly rare company. Just six other Illini freshmen in the Brad Underwood era had at least one 20-point game. A look at the rest ...
Trent Frazier
Frazier had five 20-point games in his freshman season at Illinois. The first came in his 11th game, as he put up 20 on the dot in a win against Longwood. Frazier's best effort in 2017-18, of course, was his 32-point outburst in an early February loss to Wisconsin.
Mark Smith
Smith made it two freshmen guards in 2017-18 hitting the 20-point mark. The one-and-done Illini topped the 20-point park in his third game with 21 points against DePaul. Smith was 12 of 12 from the free throw line in that game, and he never hit (or topped) the 20-point barrier again before he transferred to Missouri in the offseason.
Ayo Dosunmu
Dosunmu scored 25 points in his second career game at Illinois but wasn't able to lead the Illini past Georgetown in an 88-80 loss. He knocked down 9 of 15 shots, including 3 of 4 three-pointers, and also made all four of his free throws. Dosunmu scored at least 20 points six more times, including five times in eight games between Dec. 29 and Jan. 26 that season.
Giorgi Bezhanishvili
Bezhanishvili's first 20-point game came with a 22-point effort in a loss at Notre Dame in his seventh career game. The 6-foot-9 forward would go on to post four more games with at least 20 points in 2018-19, including an Illinois freshman record 35-point game in an early Feburary win against Rutgers.
Kofi Cockburn
Cockburn didn't go too long with a 20-point game as a freshman in 2019-20. The 7-footer did it in his second career game, scoring 23 points in Illinois' win at Grand Canyon. It was also his second double-double in as many games (clearly part of the reason he left after three years with the program record in that category). Cockburn scored at least 20 points four more times that season.
Adam Miller
Miller was even quicker in getting his first 20-point game, as he put up 28 on Chicago State in his Illinois debut. Very few people saw it, of course, since State Farm Center was fan-less during the 2020-21 COVID season. Miller's 28-point game was a program record for a freshman debut. It was also his only 20-point game for the Illini, as he transferred to LSU after the season.
Scott Richey is a reporter covering college basketball at The News-Gazette. His email is srichey@news-gazette.com, and you can follow him on Twitter (@srrichey).