Good Morning, Illini Nation: Expanded role for Coleman Hawkins?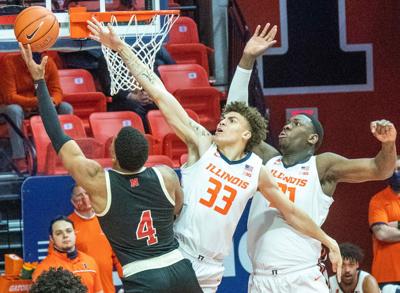 Welcome to "Good Morning, Illini Nation," your daily dose of college basketball news from Illini beat writer and AP Top 25 voter Scott Richey. He'll offer up insights every morning on Brad Underwood's team:
Brad Underwood's appearance at this week's Illini Quarterback Club luncheon included a Q&A portion at the end. Coleman Hawkins was one of the few players individually asked about Thursday afternoon. Here's what Underwood had to say about the sophomore big man that's got some real potential:
"I'm Coleman's biggest fan," Underwood said. "He's gained strength. That was his biggest problem last year. There were long periods of time he just physically wore down. He just wasn't strong enough. Elite skill set. Very, very good perimeter shooter and an elite passer.
"Last year we had great success with Kofi (Cockburn) and even Giorgi (Bezhanishvili), but in ball screens were were committed to rolling them to the basket because they didn't shoot it. I played Coleman strictly as a 3-man and 4-man at different times, and I wish I would have played him at the 5 to be a pick-and-pop guy. He's going to see more time at the 5 as that, and he's also going to play a lot of 4 for us.
"He's got great instincts and is a heck of passer and a guy that I'm really, really excited about. As you look at modern day NBA type guys, he's that consummate handles it, passes it shoots it, 6-10/6-11 type guy."