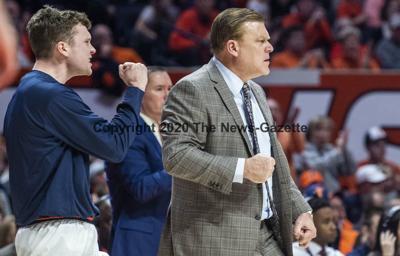 Welcome to "Good Morning, Illini Nation," your daily dose of college basketball news from Illini beat writer and AP Top 25 voter Scott Richey. He'll offer up insights every morning on Brad Underwood's team:
Brad and Tyler Underwood are one of three father/son combos in the Big Ten this season. Iowa coach Pat McCaffery has two of his sons — Connor and Patrick — on his team. Michigan State's Tom Izzo is coaching his son, Steven, and Nebraska coach Fred Hoiberg's son, Jack, as a bonus.
There are other examples across the country. Antoine Davis is playing for his dad, Mike, at Detroit. There's also Buddy Boeheim playing for his dad, Jim, at Syracuse. Don't forget Wayne and Tres Tinkle at Oregon State and Terry and Malcolm Porter at Portland.
Brad Underwood, though, is simply enjoying the time he's gotten to spend with Tyler at Stephen F. Austin, Oklahoma State and now Illinois. He discussed that before Illinois' game against Michigan State earlier this month.
"It's really special," Brad Underwood said. "I told Tom's son after the game at their place, I said, 'Cherish these moments because it's pretty special to be with your dad.' I said, 'I know he does.' I do every day. It's a pretty cool deal, man. We watch everybody else's kids grow up, and we go watch them play.
"Tom's been doing this a long time, so he's been able to manage time. I was an assistant coach for a lot of years and didn't get to manage time. Somebody else managed it for me, so it didn't allow me an option to see my son a lot. I think we both relish those opportunities and know how cool it is every day to see our sons every day."