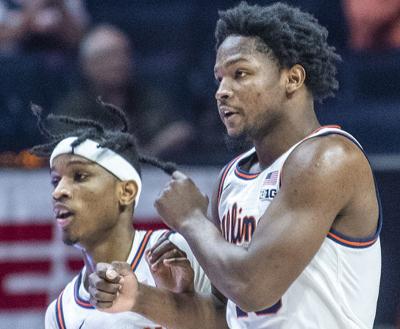 Welcome to "Good Morning, Illini Nation," your daily dose of college basketball news from Illini beat writer and AP Top 25 voter Scott Richey. He'll offer up insights every morning on Brad Underwood's team:
Andres Feliz started the 2019-20 season as a go-to scorer for Illinois. The senior guard opened the season with consecutive 20-point games and was averaging 14.7 points in eight games as a starter.
Then Illini coach Brad Underwood made the switch to start bringing Feliz off the bench — a role he thrived in last season during his first with the team. There's wasn't much of a dip in production either.
But Feliz was a non-factor in Illinois' Braggin' Rights loss at Missouri. And again in the Illini's return to Big Ten play last week at Michigan State.
The last two games have seen Feliz settle into a complementary role off the bench. He might have had just three points in Illinois' win against Purdue, but he led the team with six assists. Feliz followed that up with eight points and five rebounds in Wednesday's win at Wisconsin.
"Dre's a really, really good player," Underwood said. "His unselfishness (against Purdue) was very, very evident. We had 14 assists, and he had six of them. He's been shooting the cover off the ball in practice. He's been getting a lot of reps and a lot of shots.
"He knows when he can start making those he comes a really challenging guard because of his ability to drive and get to the front of the rim. You start adding the pass with the shot and the drive, and you've got a pretty complete player."