Good Morning, Illini Nation: Fit and able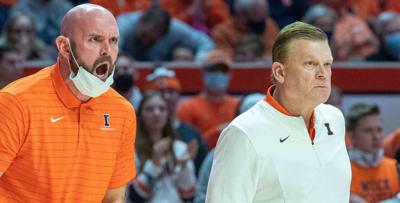 Welcome to "Good Morning, Illini Nation," your daily dose of college basketball news from Illini beat writer and AP Top 25 voter Scott Richey. He'll offer up insights every morning on Brad Underwood's team:
Conditioning was as big a piece as anything Illinois did this summer and into the run-up before the start of official practices. It was purposeful. These Illini are going to push the tempo, and to quote Kurt Russell as Herb Brooks in Miracle, "the legs feed the wolf."
"From a conditioning standpoint, I feel like we're at a point we have't been," Illinois coach Brad Underwood said. "We're much further ahead. It was intentional to be that. We did things a little bit differently this fall with a heavy dose of the conditioning knowing we're going to be a little bit different and have to play a little bit in a different style."
It wasn't just strength and conditioning coach Adam Fletcher getting a bigger chunk of the offseason workout pie. The Illini didn't slack with Fletcher, but their on-court workouts were also geared more toward movement.
"(Fletcher) restructured it a little bit, I think, in terms of what his emphasis was," Underwood said. "We also were very pointed in terms of how we wanted to handle our individual workouts in terms of running. Before it might have been a little more stationary drill-to-drill type stuff. We incorporated a lot more of that into my time, so to speak, so we doubled down on both of those things a little bit."
Scott Richey is a reporter covering college basketball at The News-Gazette. His email is srichey@news-gazette.com, and you can follow him on Twitter (@srrichey).