Good Morning, Illini Nation: Gameday Rewind - Cincinnati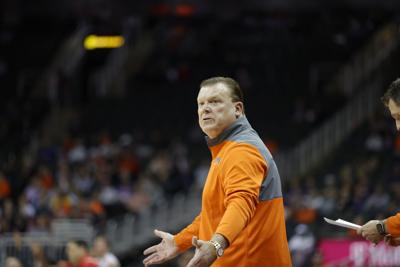 Welcome to "Good Morning, Illini Nation," your daily dose of college basketball news from Illini beat writer and AP Top 25 voter Scott Richey. He'll offer up insights every morning on Brad Underwood's team:
Tuesday's N-G sports cover features @srrichey on #Illini men's basketball's loss to Cincinnati in Kansas City. #NGMedia @APSE_sportmedia pic.twitter.com/FIImZ3p5hS

— IlliniHQ (@IlliniHQ) November 23, 2021
Not a lot of positives coming out of Kansas City, Mo., on Monday night, but here are some sights and sounds from T-Mobile Center after Illinois got thumped by Cincinnati:
It was all about effort
Benjamin Bosmans-Verdonk checked in for the first time Monday during the portion of the first half where the game was starting to get away from Illinois. The goal for the backup big? Give Kofi Cockburn a breather and provide a little boost on the energy and effort side of things (his specialty). Bosmans-Verdonk lasted a single whistle before Cockburn was back in the game after he got beat for a rebound that extended a Cincinnati possession. Illinois strength and conditioning coach Adam Fletcher was the first to react — he was not thrilled — and then Brad Underwood had a word or three with Bosmans-Verdonk back on the bench. All Underwood was looking for, particularly as the game devolved into a hot mess, was effort. It took the Illinois coach a while to find it, and by the time he did the game was already lost.
Celebration
The latest class inducted into the National College Basketball Hall of Fame was honored in a ceremony Sunday in Kansas City, Mo., and then again at halftime of the Illinois-Cincinnati game. The class included guys like Paul Pierce, Antawn Jamison and Hersey Hawkins. It was the second Illini game I crossed paths with Jamison, who was scouting for the Los Angeles Lakers in Nov. 2017 when I saw him at the Illinois-Wake Forest game in Winston-Salem, N.C.
Sound plan
Cincinnati coach Wes Miller said basically all it took was one look at Illinois' statistics from the 2020-21 season to figure out how he wanted to approach guarding Illini center Kofi Cockburn. The plan to double team Cockburn came with some of that extra pressure coming from the perimeter. Miller specifically mentioned the five assists Cockburn had last season in constructing the Bearcats' defensive game plan. They threw a semi-regular double team at Cockburn after his (and Illinois') hot start. The Illini big man's assist total at the end of the game? Zero.
Familiar faces
There were almost two blowouts Monday night in Kansas City. Then Kansas State put together a second half comeback to only to lose to No. 13 Arkansas by eight. So that preserved a Tuesday consolation showdown between Illinois and the Wildcats, who are coached by Bruce Weber and start Mark Smith at one guard spot. The former Illini guard had four points against the Razorbacks.