Good Morning, Illini Nation: Gameday Rewind - Kansas State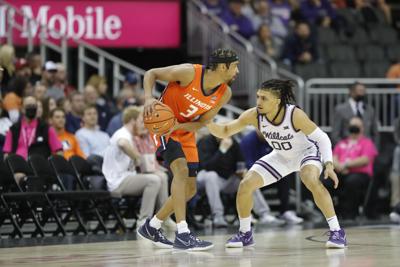 Welcome to "Good Morning, Illini Nation," your daily dose of college basketball news from Illini beat writer and AP Top 25 voter Scott Richey. He'll offer up insights every morning on Brad Underwood's team:
FINAL: No. 14 Illinois 72, Kansas State 64The #Illini losing streak ends at two with Kofi Cockburn (23 points, 13 rebounds) and Alfonso Plummer (21 points on seven 3s) leading the way.

— Scott Richey (@srrichey) November 24, 2021
Here's what caught my attention Tuesday night at T-Mobile Center in Kansas City, Mo., with Illinois getting back on track with a win against Kansas State:
Cause for concern
Trent Frazier's super senior season was put in jeopardy when he injured his right shoulder in the second exhibition game. That he had to wear a brace obviously meant there was still an issue — even if he could play through it. While Illinois coach Brad Underwood had no updated after Tuesday's game in regard to the left leg injury Frazier suffered against Kansas State, it didn't look good. Frazier was in obvious pain, he couldn't put any weight on the leg and he was taken directly to the locker room for an evaluation. Not ideal.
Let it go
Like the previous three seasons, Illinois fans boo'd Mark Smith when he was introduced during the starting lineups Tuesday night. Then things went a step further with the boo bids, including one section that boo'd Smith every time he touched the ball. The former Illini guard finished with four points on 2 of 8 shooting. For the fourth straight year, he didn't do much against his former team. The constant booing, though? Just let it go. 
Jam session
Kansas State brought its pep band this week. One could assume that happened because the trip from Manhattan, Kan., to Kansas City is just two hours. An easy back and forth. While the Wildcats' band gets a shoutout for playing "Separate Ways" by Journey, Illinois had its own band. Sort of. A local high school band filled in for the Illini, and did a passable job of playing the fight song even. Mostly, the high schoolers get the ultimate shoutout for playing the Ying Yang Twins' "Halftime (Stand Up & Get Crunk!)" albeit not at halftime. Still, great timeout tune.