Good Morning, Illini Nation: Grad assistant turnover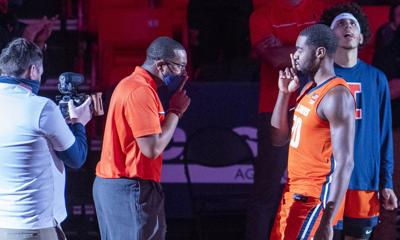 Welcome to "Good Morning, Illini Nation," your daily dose of college basketball news from Illini beat writer and AP Top 25 voter Scott Richey. He'll offer up insights every morning on Brad Underwood's team:
Kwa Jones spent the last two seasons as a graduate assistant at Illinois. Neel Ganta came on board ahead of the 2020-21 season. While neither were "in house" candidates, they both had connections to the Underwood family. Jones went to high school with Tyler Underwood in Nacogdoches, Texas, and Ganta met Underwood in middle school.
Both are moving on from Illinois.
"Both of those young guys have gotten their master's degrees," Illinois coach Brad Underwood said. "They're both in the job market, but both very different. Kwa was on the floor, an active workout guy. Neel was a little more behind the scenes wth the analytics piece. They've got opportunities — both those young guys — to move on, and they're going in different directions.
"Neel is looking at a career in the NBA. Kwa wants to be an assistant and needs to be on the road and learn the business from a recruiting standpoint. They've both got feelers out everywhere, and w'ell go about trying to replace those guys. We always start internally, to be very honest, with guys. We've had an incredible group of managers. We'll see how all that fits."