Welcome to "Good Morning, Illini Nation," your daily dose of college basketball news from Illini beat writer and AP Top 25 voter Scott Richey. He'll offer up insights every morning until practice tips off.
Brad Underwood wants defense to be the Illinois basketball identity. Not just any defense. Lockdown defense that puts a little fear into opposing teams. The Illini coach has also heard his denial-heavy defensive style critiqued as high risk, high reward and takes a bit of umbrage with that characterization.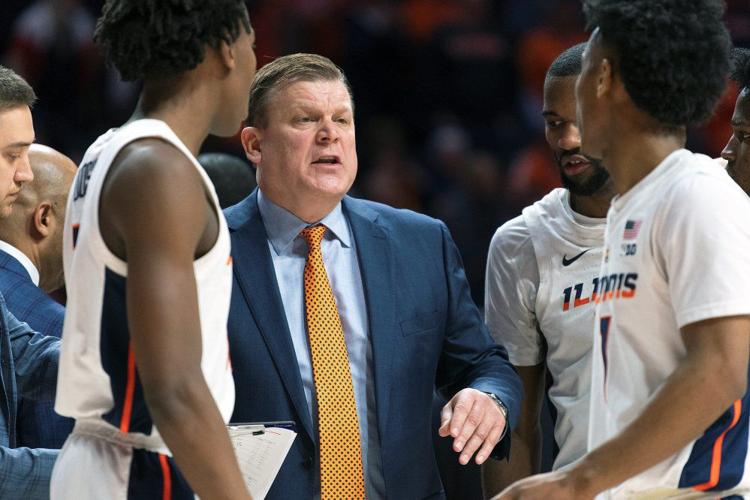 "What we want to do is be as solid and as fundamentally sound as we can be without allowing the other team to run what they want to run," Underwood said.
That wasn't always the case last season. Underwood said his team gambled a lot defensively.
"We call it false hustle," he said. "Sometimes running through a passing lane when we know we couldn't get it just so it looks like we're playing really hard. We're cleaning a lot of that up. We've got to make teams score through us and not score because we made a mistake.
"We're year two now in terms of the defensive philosophies. It's chemistry. The defensive end of the court is much more chemistry than the offensive end. We're starting to see that."
ONLINE EXTRA: Ask our beat writer about the Illini by clicking here
Illinois ended the 2018-19 season ranked as the 108th most efficient defense in the country per KenPom. It's a far cry from the peak performance of Underwood's defense in his final season at Stephen F. Austin when the Lumberjacks ranked 38th nationally.
Statistically, the Illini were among the best teams in the country in turnover percentage, forcing their opponents to cough up the ball on 21.7 percent of their possessions. Illinois also ranked in the bottom 50 teams in the country in opponents' offensive rebound percentage and two-point field goal percentage. Too many second chance opportunities and easy shot attempts.
"Last year's defense was really good at times, and we lacked in two areas a lot," Underwood said. "We fouled way too much, which was typical of a young basketball team. ... The other thing that was very typical of a young team was we didn't talk. Our communication was very, very poor."
The Illinois coaches spent the majority of the team's 10 practices in advance of the trip to Italy working on defensive principles. Fouls were addressed by simply working on the first step the players make defensively in guarding the ball. Putting freshman center Kofi Cockburn through the paces in ball screen was also a focus.
"Our attention to detail has been emphasized since the day the season ended on that end of the court," Underwood said. "Our communication has gotten a lot better. Our technique, our habits, are much better."