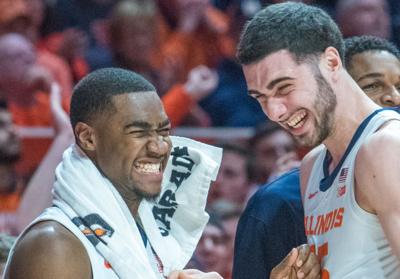 Welcome to "Good Morning, Illini Nation," your daily dose of college basketball news from Illini beat writer and AP Top 25 voter Scott Richey. He'll offer up insights every morning on Brad Underwood's team:
Michigan did its best to horn in on big-time rival status for Illinois in the 2020-21 season by, well, finishing a half game behind the Illini in the Big Ten standings and still taking home the conference title.
But the true rival these days remains Iowa. It's not Indiana. Certainly not Northwestern. Definitely the Hawkeyes. And even without Ayo Dosunmu and Luka Garza battling it out for Big Ten and national prominence next season, Illinois-Iowa is going to remain heated. 
That's all (well, mostly) thanks to the NCAA allowing for "super seniors" in 2021-22 by giving every player from last season a free year of eligibility. That now means Trent Frazier and Da'Monte Williams are back for Illinois, and Jordan Bohannon is on board for year six at Iowa. Bohannon has made plenty of "friends" in the Illinois fan base with his social media musings. They all typically fire back with Frazier and his ability to shut the Iowa guard down.
That's not even getting to Connor McCaffery. He didn't need the bonus year to come back in 2021-22 after redshirting 2017-18, but his return only heats things up even more. Williams and McCaffery going nose-to-nose in the 2019-20 regular season finale is now one of the iconic Illini photos.
Let's just put this out there. The Illinois-Iowa rivalry is a good thing. It's OK for players and coaches and fans (definitely fans) to not like another team in the conference. Heck, some people have decades invested in the Illini and Hawkeyes going at it. You're not forgotten Bruce Pearl.
Rivalries are what make sports great. No shortage of drama in this one either. Let's just hope the Big Ten comes through with a home-and-home series for the Illini and Hawkeyes in 2021-22. If they don't play twice, we'll all miss out.