Good Morning, Illini Nation: Kofi Cockburn, the passer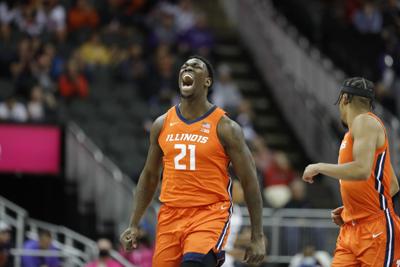 Welcome to "Good Morning, Illini Nation," your daily dose of college basketball news from Illini beat writer and AP Top 25 voter Scott Richey. He'll offer up insights every morning on Brad Underwood's team:
Brad Underwood: Nothing of significance yet on Trent. He's still walking around with the use of crutches. We do know it's not an ACL. We'll continue to monitor that. #Illini

— Scott Richey (@srrichey) November 24, 2021
Cincinnati coach Wes Miller knew the stat cold. Just five assists in 31 games in 2020-21 for Kofi Cockburn. That's why Miller shifted his defensive game plan a bit before the Bearcats played Illinois on Monday in the Hall of Fame Classic in Kansas City, Mo. 
Cockburn faced a fairly constant double team after Cincinnati figured out even with four centers on its roster it couldn't guard the Illini 7-footer one-on-one. Knowing how infrequently the ball made it back out of the post for a successful result a year ago, Miller brought added pressure on Cockburn from the perimeter. It worked. 
Kansas State took a different approach defensively on Tuesday. A not wholly successful one given Cockburn put up 23 points and 13 rebounds ... and two assists. Two! That puts him 40 percent of the way to his season total a year go through just two games. 
It's something Cockburn will have to do more of this season. He had 20 assists in 31 games as a true freshman in 2019-20. Even averaging one a game would be a step up — and a serious boon for the Illinois offense. The ball moved better against Kansas State. That the Illini shot 12 of 26 from three-point range wasn't a fluke. 
"We all know that they're going to double- and triple-team Kofi," said Illinois guard Alfonso Plummer, who went 7 of 9 from three-point range in the win against the Wildcats. "Thee's going to be open shooters in the corners and wings. He understands that. He's a smart guy. He's a smart player. Every time he sees two players on him, he's going to look for shooters."