Good Morning, Illini Nation: Last five NBA draft picks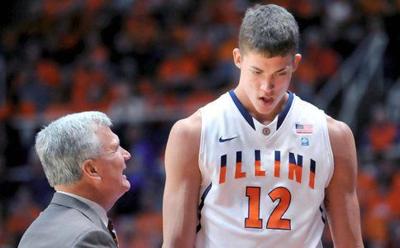 Welcome to "Good Morning, Illini Nation," your daily dose of college basketball news from Illini beat writer and AP Top 25 voter Scott Richey. He'll offer up insights every morning on Brad Underwood's team: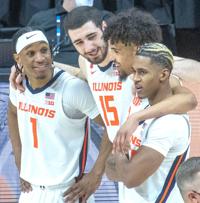 Ayo Dosunmu helped Illinois snap its lengthy NCAA tournament drought this season (after unofficially doing so last year before the pandemic canceled everything). Now, Dosunmu is a few months away from snapping another Illini drought. The junior guard declared for the 2021 NBA Draft on Tuesday, and come July 29 he will almost assuredly be Illinois' first draft pick in nearly a decade. The last five ...
Meyers Leonard, 2012
The Robinson native left Illinois after his sophomore season and was the No. 11 overall pick by the Portland Trail Blazers. Leonard played seven years in Portland — peaking in 2015-16 when he averaged 8.4 points and 5.1 rebounds — and then spent the 2019-20 season at Miami. He stuck with the Heat this past season, but was traded to the Oklahoma City Thunder on March 17 and waived just more than a week later. 
James Augustine, 2006
Augustine parlayed his standout Illinois career into being No. 41 overall pick of the Orlando Magic. Augustine bounced between the Magic and its then D-League affiliate before spending the rest of his (quite successful) career overseas. He retired from basketball in Oct. 2019.
Dee Brown, 2006
Brown was selected five picks after Augustine in 2006 as the No. 46 overall pick of the Utah Jazz. Brown ultimately played 68 games in the NBA (splitting the 2008-09 season between the Washington Wizards and Phoenix Suns) before finishing his career with seven seasons overseas. Brown is now an assistant coach at UIC.
Deron Williams, 2005
One of the most successful pros the Illini have produced, Williams was the No. 3 overall pick by the Utah Jazz following Illinois' run to the 2005 national title game. The 6-foot-3, 200-pound guard played 12 seasons for four teams, averaged 16.3 points, 8.1 assists and 3.1 rebounds for his career and was a three-time All-Star and two-time All-NBA selection.
Luther Head, 2005
Head played six seasons after being selected by the Houston Rockets with the No. 24 overall pick. The Chicago native also played for the Indiana Pacers, Sacramento Kings and Miami Heat and averaged 8.2 points, 2.4 rebounds and 2.1 assists while shooting 38.8 percent from three-point range for his career.