Good Morning, Illini Nation: Last trip to NCAAs had fans on Groce's side — and mad at refs
Welcome to "Good Morning, Illini Nation," your daily dose of college basketball news from Illini beat writer and AP Top 25 voter Scott Richey. He'll offer up insights every morning until practice tips off.
On Sundays, we'll dip into our vast News-Gazette archives and stroll Memory Lane. Today: With Brad Underwood's Illini expected to end a long NCAA tournament drought, a look back at the last time Illinois experienced March Madness. A 1-1 showing in Austin, Texas, left Illinois fans excited about the future of then rookie coach John Groce.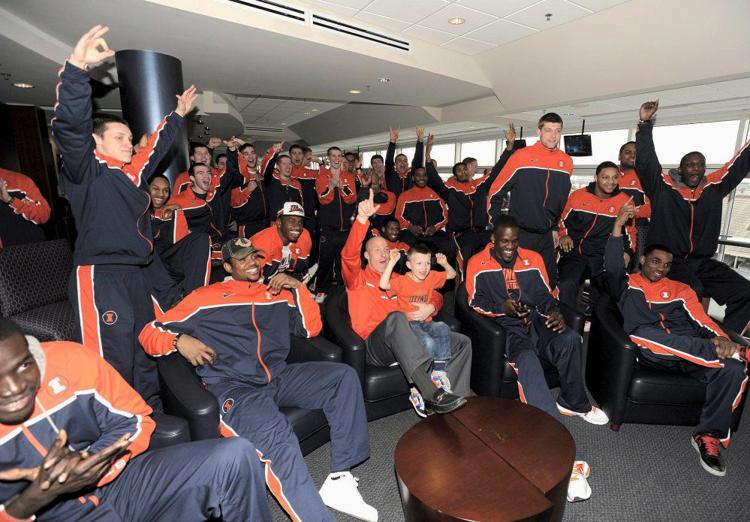 Knocked out on Saturday of the Big Ten tournament, the Illini watched the NCAA tournament pairings in Champaign. When the pairing was announced - Illinois vs. Colorado in Austin, Texas - the room went nuts. The scene included first-year coach John Groce, center, with his son, Conner, as well as players and staff. Said Groce: ""Obviously an exciting day for our basketball team. For our guys to have a chance to participate in it, we feel very blessed. They´ve worked very, very hard."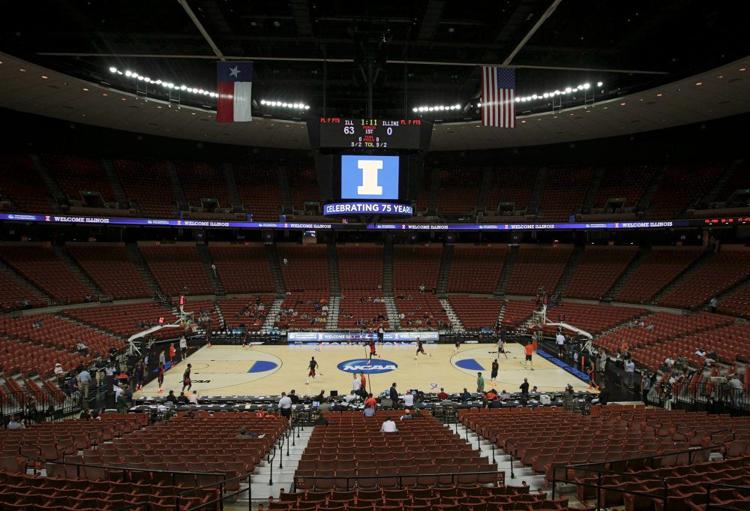 The Illini run through practice at the Frank Erwin Center in Austin, Texas, the day before facing Colorado. The Illini were looking for their second NCAA tournament win since Dee Brown hung up his headband (2006). "For us to be that group that got it going with a couple wins in the tournament would be pretty special," point guard Tracy Abrams said.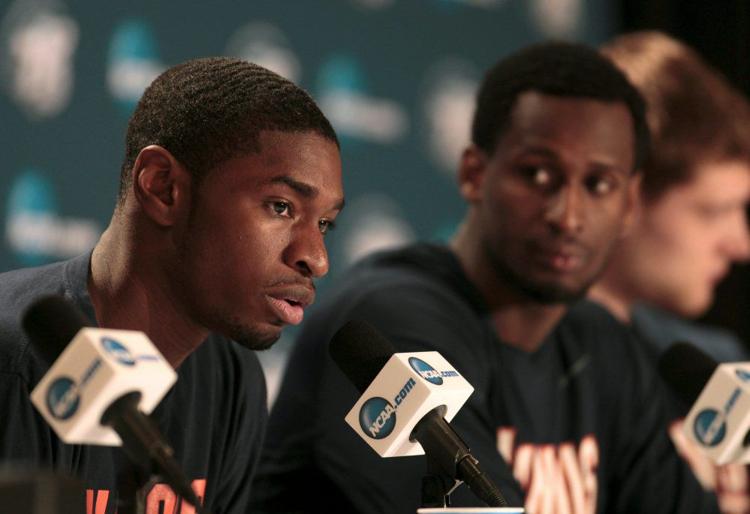 With D.J. Richardson looking on, Brandon Paul speaks during a press conference at the Frank Erwin Center on Thursday, March 21, 2013. The Illini talked about ending an eight-year Sweet 16 drought that led to the firing of Bruce Weber. Said Paul: "I think we did a lot of good things this year to look back on as seniors regardless of the outcome (vs. Colorado). We´re going to go out and compete; we´re not ready for it to be over yet."
From left, Myke Henry, Devin Langford and Joseph Bertrand hang out while guard Brandon Paul, far right, gets media attention in the locker room after a press conference the day before the Colorado game. Said Sam McLaurin: "Like Coach always says, 'There´s no greater feeling than getting into the tournament (except) advancing in the tournament,´ That´s what our goal is right now, just keep advancing one game at a time."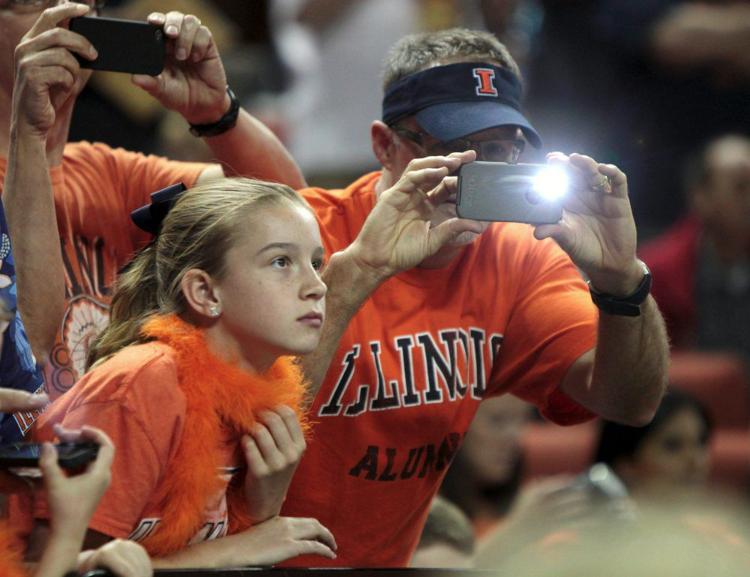 Illinois fan Jim Rynott of Durango, Colo., takes a phone picture during warmups before the game against Colorado. Cassi O'Rourke, 10, of Austin, Texas, is at left. A large group of Illinois fans made the weekend trip: "Not only does Illinois have a good alumni base but it has a good fan base with 16,000 people in orange in the stands every game," UI forward Austin Colbert said. "To play in front of that many people who are so passionate, with all the love and support they give, is a great feeling."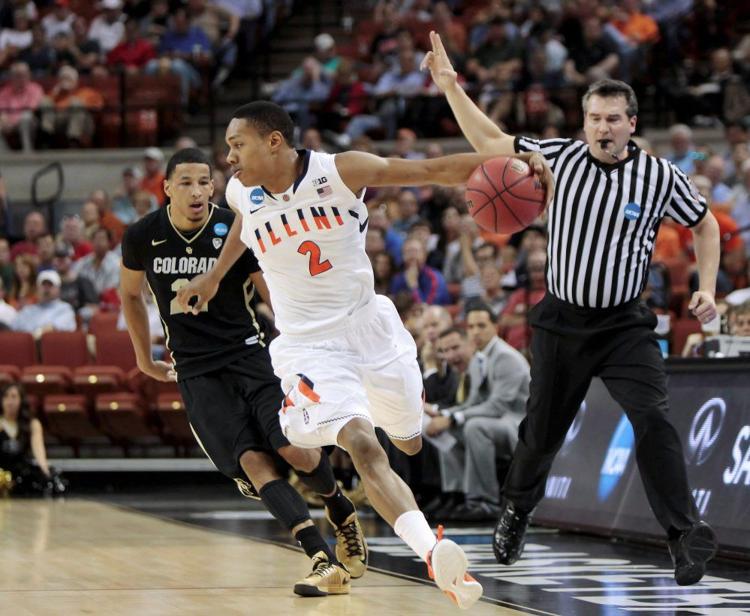 Guard Joseph Bertrand (2) gets a long pass against defender Colorado forward Andre Roberson during the Illini's NCAA tournament opener, which they won 57-49. It wasn't a work of art for the No. 7 seed as Colorado went on a 21-0 run early in the second half to erase Illinois´ 16-point halftime advantag. "It´s exciting, survive and advance, no matter how you win, just win," Nnanna Egwu said. "No one cares how you won. If you advance, nobody´s going to care."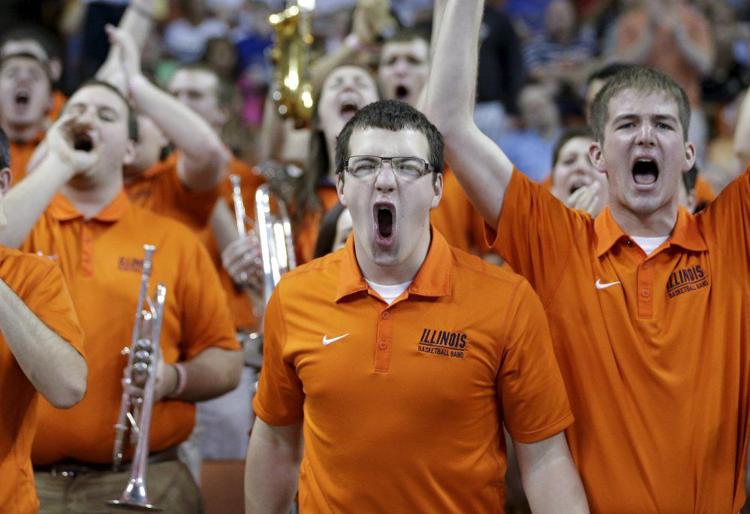 Illinois band members cheer during the first half the win against Colorado. Illinois was the only one of the eight schools in Austin to sell its allotment of 500 tickets. Members of the Illinois women´s track and field team, which is competing today 30 minutes away in San Marcos, attended the game, too. "Just to look up and see all that orange was good. I was trying to figure if they were Miami or Illinois, but when I heard the 'I-L-L´ that´s when you knew," Sam McLaurin said.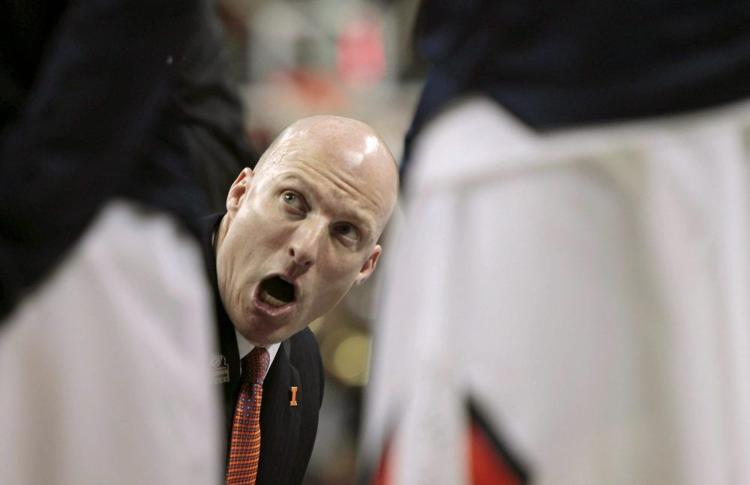 John Groce talks to his players during timeout against Colorado. He improved to 3-0 in NCAA tournament openers, saying "I thought it was only fitting that the game was maybe about as strange a game in terms of the ebb and flow of the game that I´ve been associated with, that it would be that way with this group. We have done it the hard way a lot this year."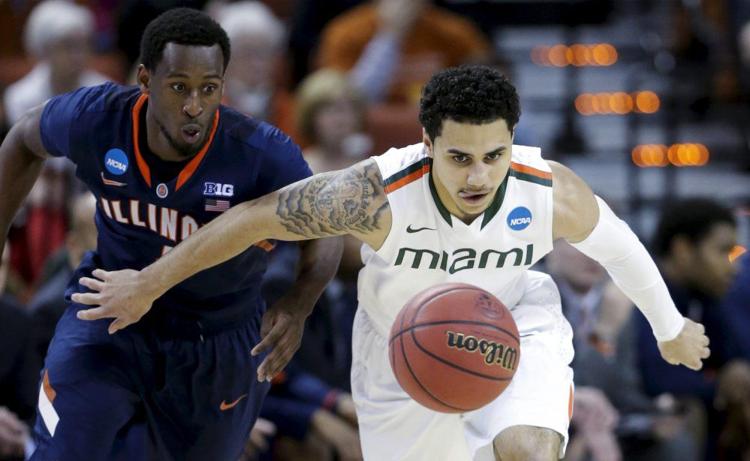 Miami's Shane Larkin and D.J. Richardson go after a loose ball during the first half of a third-round game on Sunday, March 24, 2013. Naismith Award finalist Larkin (17 points) drilled a three-pointer with a minute left and a questionable out-of-bounds call went against the Illini in the final minute in a 63-59 loss. "It was a heavyweight boxing match out there," John Groce said. "It was a battle."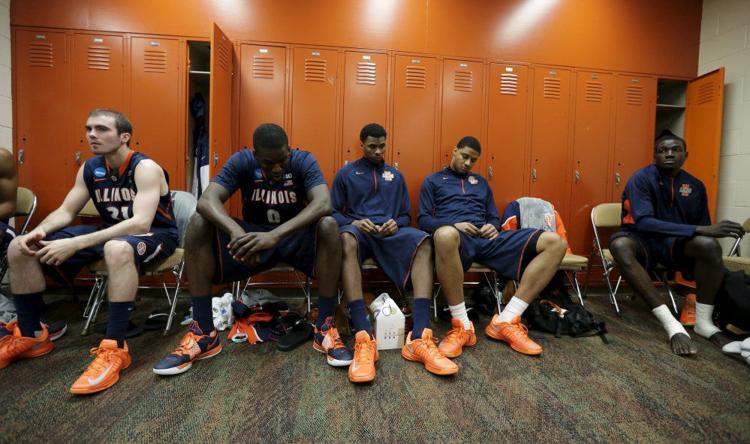 Illinois players sit in a somber locker room following their loss to Miami. "When the clock hit zero, it hit me faster than I thought it would," said senior Brandon Paul, fighting back tears after the game. "The last game of my college career, last time stepping on court with guys I came in with and the rest of the guys on my team as well as the coaching staff."