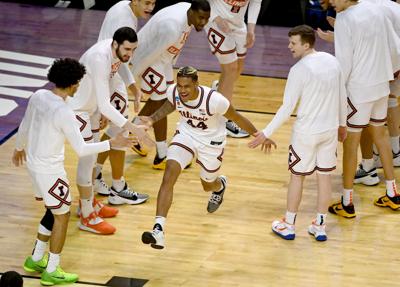 Welcome to "Good Morning, Illini Nation," your daily dose of college basketball news from Illini beat writer and AP Top 25 voter Scott Richey. He'll offer up insights every morning on Brad Underwood's team:
Adam Miller is set to announce his new college basketball home Saturday. Let's recap how we got here:
The Peoria native committed to Illinois in November 2019, signed five months later and then arrived in Champaign as the top recruit in the Illini's 2020 class. Even with Ayo Dosunmu opting to return to Illinois for a third year, Miller started all 31 games in the 2020-21 season. The 6-foot-3, 180-pound guard averaged 8.3 points and 2.8 rebounds while shooting 39.1 percent from the field overall, 34 percent from three-point range and 68.4 percent from the free throw line.
Despite that, Miller announced he was entering the transfer portal on April 1 — no fooling. The month between that initial decision and his upcoming decision has seen him really only connected to LSU and Kentucky, and there was no list of finalists included in the video he dropped on social media Thursday afternoon.
April 30, 2021
About that video. There's one segment that might shine a bit of light on Miller's decision to transfer. He hasn't spoken publicly about it. (I reached out to no avail). But including the following clip from former Illini Stephen Bardo from a broadcast this season probably wasn't an accident ...
"He showed us in the Minnesota game, Brandon, that he could do more than just catch and shoot," Bardo said to TV partner Brandon Gaudin. 
Just some food for thought.