Good Morning, Illini Nation: NBA draft stock update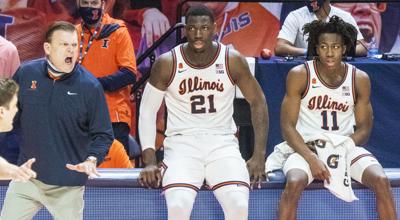 Welcome to "Good Morning, Illini Nation," your daily dose of college basketball news from Illini beat writer and AP Top 25 voter Scott Richey. He'll offer up insights every morning on Brad Underwood's team:
Sports Illustrated's Jeremy Woo updated his NBA draft board this week. The Illinois duo of Ayo Dosunmu are both on it. Dosunmu's projection has held steady, with the First Team All-American likely to be selected in the late first round or early second round. Cockburn's a little further down the list — as in outside the top 60 for a draft that goes ... 60 players deep.
Here's part of what Woo had to write about both Illini:
On Dosunmu: "As far as the NBA is concerned, Dosunmu is being judged on his body of work, not just Illinois' unceremonious NCAA tournament exit. And he's done enough that it's likely he hears his name called in the first round, with his range likely beginning in the 20s and ending in the 30s. While Dosunmu is still somewhat stuck between guard spots—he's probably not creative enough to play point guard in the NBA, and his jumper isn't so dangerous that he'll be a huge threat on the wing—his consistent effort and notable work ethic should help him inch toward reliability in spite of the things he doesn't do as well."
On Cockburn: "His style of play is dated by NBA standards, and further hampered by the fact he doesn't shoot threes or pass the ball well. But guys with his sheer size tend to get longer looks as situational players, and while he may not get drafted, Cockburn will likely find his way onto a roster."