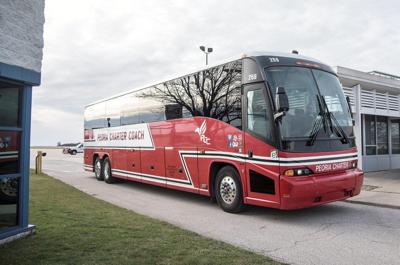 Welcome to "Good Morning, Illini Nation," your daily dose of college basketball news from Illini beat writer and AP Top 25 voter Scott Richey. He'll offer up insights every morning until practice tips off.
The Italian peninsula is going to get a little more crowded next month as multiple college basketball teams — Illinois included — test their mettle against local teams and enjoy the local culture during their foreign tour. Just how busy? Per Stadium's Jeff Goodman at least 14 other teams made Italy their travel destination of choice this summer.
In fact, Illinois will be in Italy at the same time as two of its Big Ten rivals. Minnesota and Nebraska's trips basically run the same 10 days. The Illini leave on Aug. 4, while the Gophers and Cornhuskers depart Aug. 3.
Other teams either start their trips sooner (Northern Iowa) or, moreso, later with teams like Northwestern, Baylor and Stanford all touring after the Illini return to Champaign. Also scheduled for Italy foreign tours are Miami, Pittsburgh, DePaul, Seton Hall, Illinois State, Iowa State and Syracuse.
"They kind of stagger it," Illinois director of basketball operations Joey Biggs said. "The other thing is, and my Italy geography may be off, but we're coming into Milan and going north to south. I think some of them come in and work south to north. Fly into Rome first and start there."
Biggs last coordinated a foreign tour in 2012 at Oklahoma State when the Cowboys went to Barcelona and the Canary Islands. Everything he's heard during his planning for Illinois' trip is Italy is "an unbelievable trip."
"Everybody said this is a great experience for the kids," Biggs continued. "You're going to get to play against pretty good teams. Some places, you never know what you're going to play against. They may go grab six guys off the street and say, 'Hey, let's go.'
"I think in this one we're getting there at a point where a lot of the pros start to show up Aug. 1. I think we'll play against pretty good people, and it will be a good test for us."