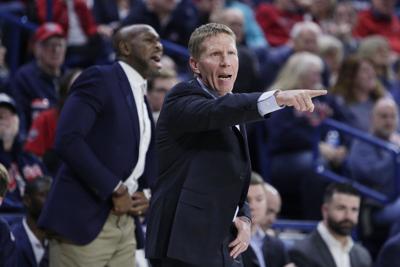 Welcome to "Good Morning, Illini Nation," your daily dose of college basketball news from Illini beat writer and AP Top 25 voter Scott Richey. He'll offer up insights every morning on Brad Underwood's team:
Roger Powell Jr. was part of Bryce Drew's first coaching staff at Valparaiso in 2011-12 when the latter replaced his dad, Hower Drew, in leading the Crusaders. It was the first coaching job for the former Illini following a playing career that saw stops in the CBA, NBA, what was then the D-League and then Israel, Italy, Spain, France and Germany.
Powell stayed with Drew for five seasons at Valparaiso. Then three more at Vanderbilt before the entire coaching staff was let go following the 2018-19 season that included a winless run through SEC play.
Drew is spending this season away from the sideline. He worked Monday night's Illinois-Hawaii game as an analyst for the ESNPU broadcast. That meant plenty of texts back and forth with Powell, who's now in his first season as an assistant coach for Mark Few at No. 8 Gonzaga.
"Whenever you bring up Illinois, he has nothing but smiles about the place," Drew said. "Roger's the best. He's such a good person, but he's also extremely passionate about doing what's right and also the game of basketball. He's one of my dearest friends. I've been talking and texting with him today before the game."
The opportunity to work with Few is one Drew said was a big one for Powell. 
"You know, within 15 minutes, basically, of us getting released (at Vanderbilt) he had people wanting him," Drew said. "A lot of people have really wanted him on their staff for years. I'm just so happy he's out with Coach Few at Gonzaga. They're top 10 in the country and have a chance to go to a Final Four."
Drew sees a head coaching job in Powell's future. That's based on the eight seasons of growth he saw from the former Illini in his time as an assistant at Valparaiso and Vanderbilt.
"He has such a great passion for the game, and players instantly gravitate to him," Drew said. "He was still good enough to go out and dunk on people during practice, but yet he could go and close his door and talk to a young man and help straighten out his life if he needed to. He could wear a lot of different hats, and you always trusted what he did."