Good Morning, Illini Nation: Prepping for media day
Welcome to "Good Morning, Illini Nation," your daily dose of college basketball news from Illini beat writer and AP Top 25 voter Scott Richey. He'll offer up insights every morning on Brad Underwood's team: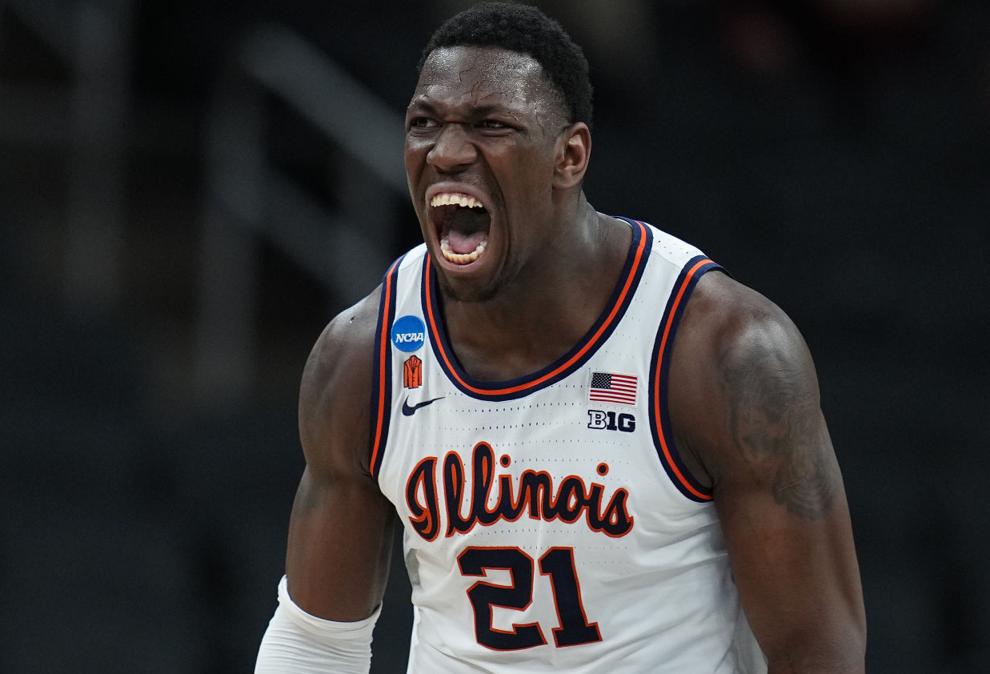 The 2021-22 Illinois basketball season will tip off Friday at State Farm Center with the first in-person media day since 2019. Here are some storylines I'm considering:
Skyrocketing expectations
The national attention is already on the sophomore point guard. CBS Sports' Jon Rothstein has Curbelo as a preseason Third Team All-American, and Stadium/Field of 68's Jeff Goodman slotted in the 6-foot-1 point guard as a preseason First Team All-American. So, yeah, expectations are soaring. But not without reason. Curbelo averaged 9.1 points, 4.2 assists and four rebounds in 2020-21 as the Big Ten Sixth Man of the Year, and his role will only grow this year for the Illini. Whether Illinois coach Brad Underwood doubles down on his Steve Nash comparisons is to be determined.
Hustling
Trent Frazier operates at max effort on the basketball court. That's been evident the past four seasons, as the 6-1 lefty evolved from being known almost exclusively as a scorer as a freshman to one of the better two-way guards in the Big Ten by his (first) senior season. The super senior has also been hustling off the court, too. No Illinois basketball player has embraced the benefits of the new name, image and likeness legislation more than Frazier, who has worked multiple deals, including locally with Jarling's Custard Cup, Health Alliance and IMPACT Physical Therapy.
The wild card
There's no greater mystery on this Illinois team than Austin Hutcherson. The 6-6 guard was already an intriguing prospect when he first arrived in Champaign from Division III Wesleyan University (Conn.). That's what happens when a 40 percent career three-point shooter also has a 41-inch vertical. The interest in Hutcherson has only risen as he spent the 2019-20 season away from the public sitting out after his transfer and the 2020-21 season away from the team as he rehabbed a back injury. What Hutcherson might bring to the Illini could elevate the team's ceiling even more.
Going big
How well Kofi Cockburn and Omar Payne truly operate together in the Illinois frontcourt won't be resolved at media day. The plan is to play them in the same lineup — at least some of the time. The true test of the effectiveness of that big man pairing won't become clear until the season actually starts with live game action against an actual opponent. Cockburn's previous pairing with Giorgi Bezhanishvili wasn't always the perfect fit from a basketball standpoint. Cockburn and Payne would seem to have some overlapping skill sets, but getting the best players on the court together has its appeal.
Early impact
Illinois is in a unique position heading into the 2021-22 season. The Illini signed a trio of four-star guards in the Class of 2021, including the Wisconsin Mr. Basketball winner (Brandin Podziemski), one of the top players out of Indiana (Luke Goode) and a dynamic athlete out of the program's Puerto Rico pipeline (R.J. Melendez). The role those three freshmen guards will fill — and how much they'll play — isn't straightforward given Underwood has arguably his most experienced team heading into Year 5 in Champaign. It will take something special from any of the three to carve out space in the rotation.