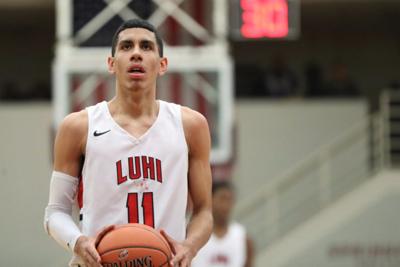 Welcome to "Good Morning, Illini Nation," your daily dose of college basketball news from Illini beat writer and AP Top 25 voter Scott Richey. He'll offer up insights every morning on Brad Underwood's team.
Recruiting is about relationships. Sure, winning matters. Successful programs always have that little extra to sell. But relationships can turn a recruitment even when the wins aren't there.
Illinois has that relationship with Class of 2020 four-star point guard Andre Curbelo, who starts his official visit with the Illini on Friday. Curbelo got his offer from Brad Underwood in July 2018. The relationship between Curbelo's family and Illini assistant coach Orlando Antigua, though? It goes back significantly further.
"My dad and coach have known each other for a while," Curbelo said. "It can make it a little easier. It probably makes us more comfortable that we have somebody that we know."
Here's a brief Q&A from my conversation with Curbelo ahead of his visit:
What have you learned about Illinois throughout the recruiting process?
I've learned that they have a really strong culture. They do everything the right way. They always stick together. Those three things are the most that I've got because that's what the coaches emphasize a lot.
How do you see yourself fitting in Illinois' system?
They've shown me a couple clips. I like the way they play. They get up and down. They do a little bit of everything. I kind of like that. That's what I'm used to playing, so that's really good.
What are you focusing on to improve your game?
I think I need to shoot the ball a little better — just more consistently — but I'm working on that. I know point guards in college need to be able to do that.
What's been your approach to your official visits?
The three visits I have planned right now, I'm kind of looking for the same thing in all of them, and I think I'll be getting them. They're on my visit schedule for some reason. Just stepping on the campus I'll feel good. I'm just kind of looking for that feeling on campus — the right feeling.