Good Morning, Illini Nation: Some former Illini on the move — again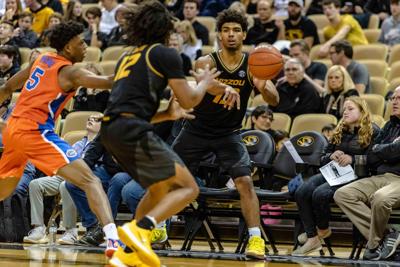 Welcome to "Good Morning, Illini Nation," your daily dose of college basketball news from Illini beat writer and AP Top 25 voter Scott Richey. He'll offer up insights every morning on Brad Underwood's team:
Several former Illinois guards are making use of their bonus year of eligibility for the 2021-22 season. They're just not using it at the spot they landed after leaving Champaign. A quick update on all of the former Illini still in college basketball:
Jalen Coleman-Lands
Yes, he's still in college. Coleman-Lands is actually in the portal for the third time for what would be a seventh year of eligibility. He had two at Illinois, three at DePaul and one at Iowa State last season where 14.3 points and 3.9 rebounds and shot 39.5 percent from three-point range. Injury issues at DePaul gave Coleman-Lands a sixth season with the Cyclones. Since he's already transferred — twice, in fact — he'll have to get a waiver to play at wherever he lands next, but that should be easy given the coaching change from Steve Prohm to T.J. Otzelberger in Ames, Iowa.
Te'Jon Lucas
Lucas had an impressive finish to his time at Milwaukee, putting up 14.9 points, 5.8 assists and 4.6 rebounds per game as a fifth-year senior. His bonus sixth season will happen elsewhere, though, and BYU, Utah, Nevada, New Mexico State and DePaul. If he winds up at DePaul, that would make some since given former Illinois and Milwaukee assistant Paris Parham was just added to new Blue Demons' coach Tony Stubblefield's staff.
Mark Smith
It's going to end up being a rather unique college basketball career for the former News-Gazette All-State Player of the Year. Smith was initially recruited by John Groce, signed with and played for Brad Underwood and will now play for Bruce Weber after transferring from Missouri to Kansas State for his bonus season. And if you want to mark Bill Self off the list, too, Smith will play against Kansas in 2021-22.
Greg Eboigbodin
Eboigbodin's role increased a bit in his second season at Northeastern. The 6-foot-9, 225-pound forward started 10 of 16 games for the Huskies in the pandemic-shortened season and averaged 3.7 points and 3.4 rebounds. As of now, he's sticking around at Northeastern.
Samba Kane
Kane is on the move — again. The 7-footer out of Senegal spent the 2020-21 at San Francisco after an interim JUCO year at Indiana Hills and mostly played a small reserve role for the Dons. Kane did start four games, but averaged just 2.7 points and 2.3 rebounds in 9.7 minutes per game. He announced his transfer to Milwaukee on Monday.
Alan Griffin
Recently a new dad, Griffin announced he was entering the 2021 NBA draft at the end of April after putting up 13.3 points and 5.8 rebounds per game in his first (lone?) season at Syracuse. The expectation is Griffin will hire an agent and forego any remaining eligibility.
Tevian Jones
Jones had a breakout season at Southern Utah. The 6-7, 190-pound guard led the Thunderbirds in scoring in a 20-4 season that saw them win the Big Sky regular season title, but miss out on the NCAA tournament after losing in the conference tournament semifinals. Jones ended the season averaging 16.9 points and 4.5 rebounds.
Bernard Kouma
Technically, Kouma counts. He might never have played for Illinois — or even stepped foot on campus as an Illini — but he did sign a national letter of intent to play for Brad Underwood. That opportunity never materialized, and he spent a year at South Plains (Texas) before transferring to Oklahoma State. Kouma played in 26 games for the Cowboys and averaged 1.5 points and 1.4 rebounds in 6.8 minutes per game.