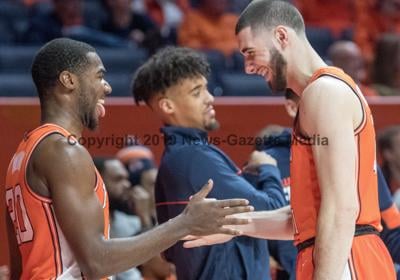 Welcome to "Good Morning, Illini Nation," your daily dose of college basketball news from Illini beat writer and AP Top 25 voter Scott Richey. He'll offer up insights every morning on Brad Underwood's team:
The first month of the season wasn't overly challenging for Illinois. Sure, the Illini played two true road games the opening week, including at a ranked Arizona team. But the Wildcats were Illinois' stiffest competition. By far.
December is going to be a little different. Starting with Monday's Big Ten/ACC Challenge game with Miami, the Illini will face four high major teams this month. Big Ten play provides Maryland and Michigan. Braggin' Rights will give the Illini their yearly matchup with Missouri.
Those games, as much as anything, will give Illinois the clearest picture of where it currently stands. Here's a snapshot of those four teams through the first month.
Miami
Hurricanes' coach Jim Larranaga put together a fairly tough early schedule with games against Louisville, Florida and UConn. Miami lost them all with its best win coming by nine points at UCF. The biggest surprise has been Chris Lykes. The 5-foot-7 junior guard has seen his production drop almost across the board. He's scoring and rebounding less and dishing out fewer assists. Lykes' scoring has taken the biggest hit, down to 12.9 points per game from 16.2 ppg last season.
Maryland
Fifth-ranked Maryland finished November unbeaten. The Terrapins probably should have given their toughest game came against Temple (depending on how you feel about Bryce Aiken and Harvard) in the Orlando Invitational. Production has been as expected for the Terps, though, with Anthony Cowan Jr. and Jalen Smith the team's top two players and sophomores Eric Ayala and Aaron Wiggins next.
Michigan
The Wolverines should go from unranked to the top five when the latest AP Top 25 drops late Monday morning. No team has as impressive a pair of wins as Michigan got in winning the Battle 4 Atlantis title where Juwan Howard's crew took down top eight teams North Carolina and Gonzaga. Zavier Simpson and Jon Teske have been as steady as expected, but Michigan's 7-0 start has only come with Isaiah Livers and Eli Brooks taking their production to another level.
Missouri
Cuonzo Martin's Tigers have beaten the teams they should have and then lost to every power six team they've faced (Xavier, Butler and Oklahoma). Every discussion of Missouri, of course, turns to Mark Smith, Jeremiah Tilmon and Javon Pickett. The former Illini and former Illini signees all start for the Tigers. Smith leads the team in scoring (12.9 ppg) and rebounding (5.1 rpg).