Good Morning, Illini Nation: The inside scoop on our story about Adam Fletcher
Welcome to "Good Morning, Illini Nation," your daily dose of college basketball news from Illini beat writer and AP Top 25 voter Scott Richey. He'll offer up insights every morning on Brad Underwood's team.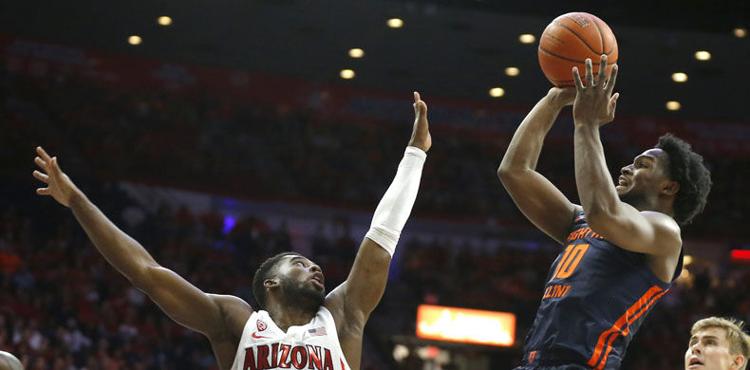 Here's a little insight into how a feature story — like the one you'll read in Sunday's News-Gazette about Illinois men's basketball strength and conditioning coach Adam Fletcher — comes together. I spoke with Fletcher for about 40 minutes this week. Not all of our discussion wound up in the story. Length would have been an issue.
Coming in this weekend's @news_gazette: @srrichey on @IlliniMBB 's secret weapon. #Illini pic.twitter.com/lawMTpiSER

— IlliniHQ (@IlliniHQ) November 15, 2019
Here's the bonus of the Internet. You get an interesting anecdote here as a teaser for the full-length feature coming soon.
The sheer volume of data Fletcher has at his disposal when it comes to how the Illinois players' bodies move and operate since Illinois started using both the ShotTracker system and force plate technology — at his urging — is kind of wild. One piece of data is the landing force of each player when they jump.
One of freshman center Kofi Cockburn's early jumps had a landing force of 14,000 Newtons. That's more than 3,000 pounds of force. Too high, really.
"When you think about that it's almost, 'Is that even possible?'" Fletcher said. "With the consistency of his data, we've been able to bring that down, which is good. Because he is so big and he is so powerful, when he does land he generates that much force."
Lowering that number meant getting Cockburn on a weight-loss program, which was part of the plan for the 7-footer anyway. Then came altering Cockburn's landing mechanics so he could better absorb his body's force.
"Usually big guys, foot injuries or lower leg injuries are the things that happen," Fletcher said, referencing the likes of Yao Ming and Shaquille O'Neal. "The really, really big guys. We think that one of the main reasons is because of how much force they're incuring on every landing.
"Honestly, I've said it multiple times. I may never work with a guy like him again. We don't take that opporuntity lightly. Some of his movements are outrageous. He can win sprints. He's one of our best vertcial jumpers on the team. It's amost like he was made in a lab somewhere."