Welcome to "Good Morning, Illini Nation," your daily dose of college basketball news from Illini beat writer and AP Top 25 voter Scott Richey. He'll offer up insights every morning on Brad Underwood's team: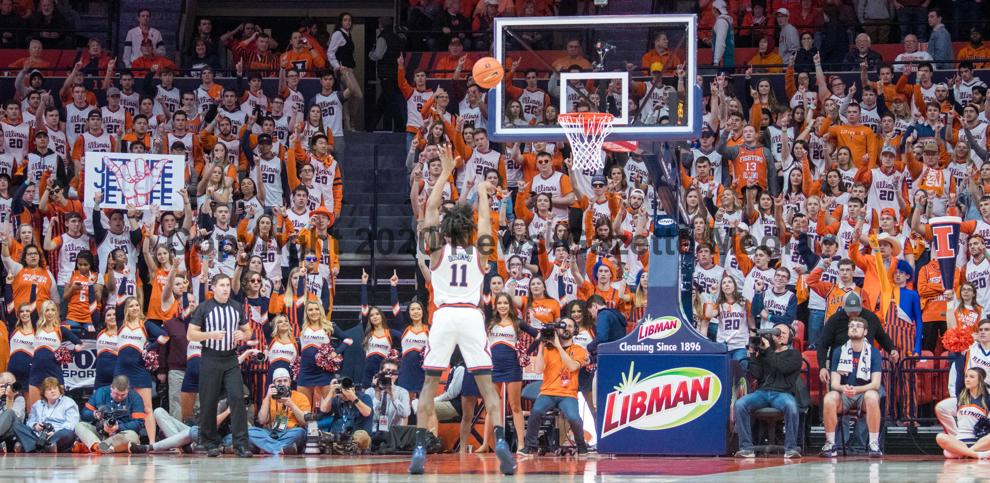 The 2021 NBA draft combine began in earnest Tuesday in Chicago. It was mostly a measurements day — both in physical characteristics and agility. More players participated in the former than the latter, including Illinois guard Ayo Dosunmu. 
Dosunmu checked in at 6-foot-3 1/2 without shoes because that's still something that is measured. Since basketball is played with shoes on, Dosunmu also measured in at 6-5 with them on and weighed in at 194.4 pounds with a 4.9 percent body fat percentage. Dosunmu's hands were also 8 1/2 inches long and 8 3/4 inches wide. His standing reach was 8-0 1/2, and his wingspan measured 6-10 1/4.
OK. What does all that mean? What's important. The 6-5 in shoes makes a difference. Dosunmu is listed as a shooting guard in the draft combine anthrometric statistics, but he'll likely play more of a combo guard role once he hits the league. Standing 6-5 with a 6-10 1/4 wingspan is legit. His body fat percentage was also the 11th lowest out of the 61 players that were tested. Given his time with Adam Fletcher ... that shouldn't be a surprise. 
Here's a few others that stood out in the anthrometric testing portion of the day:
Longest wingspan measured went to Utah State center Neemias Queta at 7-4. He was also the tallest player measured at the combine at 7-0 1/2 and had the highest standing reach at 9-4 1/2. 
Somehow Dosunmu's standing reach dropped from 8-6 at the 2018 USA Basketball U18 Training Camp to 8-0 1/2 despite getting an inch taller (in shoes) and his arms growing more than 2 inches. Weird.
Biggest hands went to Duke's Jalen Johnson at 9 3/4 inches long and 10 1/2 inches wide. He surely has no trouble palming a basketball.
The shortest player measured was Oral Roberts' guard Max Abmas, who checked in at 5-11 3/4 in shoes with a 6-1 3/4 wingspan. Not ideal.
The guards with the biggest difference between height and wingspan were Florida State's Scottie Barnes (6-8 in shoes with a 7-2 3/4 wingspan) and Arkansas' Moses Moody (6-6 in shoes with a 7-0 3/4 wingspan). 
Dosunmu did not participate in any agility testing Tuesday. Here are a few players that stood out from the smaller number that got measured:
Best leaper of the day was Jericho Sims. The Texas forward hit a max vertical of 44 1/2 inches and also had the best standing vertical at 37 inches.
Coming in at No. 2 in max vertical behind Sims and tied with Florida guard Scottie Lewis was Iowa guard Joe Wieskamp, who's apparently not just a shooter. The Hawkeyes' guard hit 42 inches on his max vertical, and he Sims and Lewis were the only three players to break the 40-inch mark.
Lewis showed of the other part of his agility by posting the best times in lane agility (10.45 seconds) and three-quarter sprint (2.98 seconds). Only Texas forward Greg Brown III had a faster shuttle runs at 2.98 seconds to Lewis' 3.04 seconds.