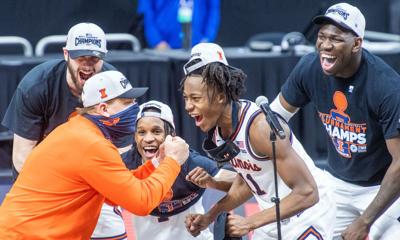 Welcome to "Good Morning, Illini Nation," your daily dose of college basketball news from Illini beat writer and AP Top 25 voter Scott Richey. He'll offer up insights every morning on Brad Underwood's team:
Brad Underwood's weight loss was a popular storyline during the early days of the pandemic. But he wasn't the only one putting in the miles during and after quarantine. New assistant coach Geoff Alexander was, too, and is down 66 pounds in the last year.
Here's how they described what turned out to be a rather competitive venture ...
Alexander: "I would say we probably inspired each other. It got competitive. It started early on in the quarantine. It was just phone calls and FaceTimes amongst each other. If there was a day he did 11 miles and I only had nine, at 10 o'clock at night I was getting out and getting two more miles in. It was fun — kept us busy, kept our minds right."
Underwood: "He's kicked my (butt). Geoff's lost like 60 pounds. He's a machine. He runs like 8-10 miles every day. I got him (Monday). I walked 10.8, and he only got his eight-mile run in. I've got a chance because I've got him hooked on ice cream late night right now. Hopefully if I can keep that up I've got a chance to get back in this thing."