Good Morning, Illini Nation: They're honored numbers, not retired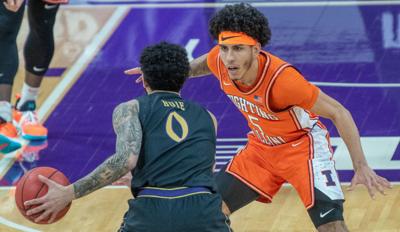 Welcome to "Good Morning, Illini Nation," your daily dose of college basketball news from Illini beat writer and AP Top 25 voter Scott Richey. He'll offer up insights every morning on Brad Underwood's team:
Andre Curbelo posted a poll on Twitter on Tuesday seeking out opinions on whether he should stick to wearing No. 5 for his sophomore season with the Illini or switch back to the No. 11 he'd worn before getting to Champaign. That number was unavailable this past season, of course, with Ayo Dosunmu still around.
Real question... #5 or go back to the OG... #11? 👀

— Andre Curbelo (@papicurbelo11) May 4, 2021
As of late Tuesday night, the results of the poll were leaning rather heavily in one direction ... keep wearing No. 5. Most of the comments favored that, too. 
It's one comment in particular, though, that provided an opportunity to discuss how players are honored at Illinois. One fan was adamantly against Curbelo switching to No. 11 because Dosunmu wore it and that number would be in the State Farm Center rafters next season season.
They must have forgot all about Dee Brown and the fact Dosunmu will be the third No. 11 in the rafters with Don Sunderlage honored as well. That's the key word. The Illini honor players. They don't retire their numbers — mainly because there really aren't enough basketball numbers to go around. 
The legal numbers for basketball now — think a referee being able to easily signal in said numbers for fouls — are: 0, 00, 1, 2, 3, 4, 5, 00, 10, 11, 12, 13, 14, 15, 20, 21, 22, 23, 24, 25, 30, 31, 32, 33, 34, 35, 40, 41, 42, 43, 44, 45, 50, 51, 52, 53, 54 and 55.
You start retiring too many, and you basically run out. So Illinois goes the honor route instead. Here's the list of every player with a spot in the SFC rafters pre-Dosunmu (who's next):
No. 1 — Chuck Carney (1920-22); Ray Woods (1915-17)
No. 4 — Luther Head (2002-05)
No. 5 — Deron Williams (2003-05)
No. 11 — Dee Brown (2003-06); Don Sunderlage (1949-51)
No. 12 — Derek Harper (1981-83); Nick Weatherspoon (1971-73); Tal Brody (1963-65)
No. 13 — Kendall Gill (1987-90)
No. 14 — Walt Kirk (1944-45, '47)
No. 15 — Don Freeman (1964-66)
No. 19 — Bill Hapac (1938-40)
No. 22 — Red Kerr (1952-54)
No. 23 — Jerry Colangelo (1960-62)
No. 24 — Jim Dawson (1965-67)
No. 25 — Deon Thomas (1991-94); Nick Anderson (1988-89); Bruce Douglas (1983-86); Gene Vance (1942-43, '47)
No. 30 — Frank Williams (2000-02); Mannie Jackson (1958-60)
No. 33 — Kenny Battle (1988-89); Ken Norman (1985-87); Eddie Johnson (1978-81); Bill Erickson (1947-50)
No. 34 — Brian Cook (2000-03)
No. 35 — Skip Thoren (1963-65); Govoner Vaughn (1958-60)
No. 37 — Rod Fletcher (1950-52)
No. 40 — Dave Downey (1961-63); Dike Eddleman (1947-49)
No. 47 — Andy Phillip (1942-43, '47)