Good Morning, Illini Nation: Turnover trouble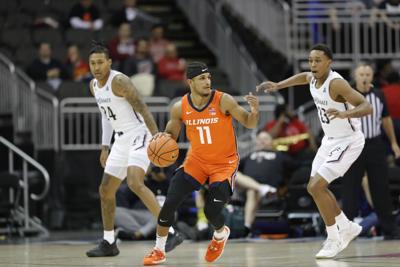 Welcome to "Good Morning, Illini Nation," your daily dose of college basketball news from Illini beat writer and AP Top 25 voter Scott Richey. He'll offer up insights every morning on Brad Underwood's team:
Friday's N-G sports cover features @clikasNG and @mdaniels_NG on @UnityFootball playing for Class 3A state title in DeKalb, plus @srrichey on #Illini men's basketball. #NGMedia @APSE_sportmedia @ngphotostaff pic.twitter.com/F7f1DnULqr

— News-Gazette Preps (@ngpreps) November 26, 2021
The most glaring weakness for Illinois through five games this season? Has to be the turnovers, with games of 19, 13, 26, 14 and 18 turnovers so far for the Illini. That's 90 turnovers in five games — 90! And at 18 turnovers per game, Illinois is tied for 334th nationally with the likes of Lehigh, Western Kentucky and Long Beach State.
Where it gets a bit worse is when you look at Illinois' turnover percentage. As in the percentage of possessions where the Illini are giving the ball back to the other team. Illinois' turnover percentage currently sits at 25.4 percent. A full quarter of its possessions end with the ball going the other way, and that puts the Illini 342nd nationally.
The teams ranked below Illinois include just one other (Memphis) that's from one of the power six conferences. Villanova, conversely, has turned the ball over on just 9.7 percent of its possessions. 
"We've got to get the turnover bug figured out," Illinois coach Brad Underwood said. "Most of the turnovers are careless. We're (37th) in offensive efficiency, and if you take away our turnovers and move us in a position where we were last year in turnovers and we would be in the top five. The turnovers and the missed free throws have been a problem, but we're clipping along at 1.1 points per possession. I'll take 1.1 at any pace. We knock the turnovers down in a 64-possession game like (Tuesday) night — cut those in half — and all of a sudden that becomes pretty efficient basketball."